Google's September 2022 Core Update was announced on Twitter three days back.
The official announcement was posted by Google Search Central which immediately caught the attention of SEO masters.
Most importantly, this is the second update in September by Google after the Helpful Content update.
As per Google's official list of ranking updates, this Core update could take around 2 weeks to complete rolling out.
Google's September 2022 Core Update: All You Need to Know
This broad Google recent core update is launched on September 12 at 11.25 pm ET.
It is expected to bring major changes in the search engine results pages (SERPs) or search queries by targeting all types of content.
In fact, it's a global update, meaning it will be impacting the content of all languages across all regions.
The purpose of this update is to reward content that has high value and provides insightful information to searchers.
Although frequent changes are made in ranking algorithms, this core update is more observable.
The reason is that the search community is assuming the Helpful content update to be an integral part of this core update. It could amplify the "Helpful content update".
Well, there has been no confirmation of this matter yet from Google's end.
Danny Sullivan, the founder of Search Engine Watch, has also tweeted in this context:
"Maybe the helpful content signal alone wasn't enough to tip the scales and produce a change in someone's particular situation, but when we do other updates (core, product reviews), it might add into that and be more significant…."
Will This Google's Recent Core Update Hit Publishers and Bloggers?
Every update by Google is meant to improve search queries and enhance a searcher's experience.
Similarly, this September core update is no exception. Hopefully, it will put a check on low-quality and unoriginal content.
Content that provides substantial information and insightful analysis will be rewarded and hence, will get better rankings.
Needless to say, Google keeps on adding ranking updates on a regular basis. Hence, webmasters need to keep an eye on Search Console changes constantly.
They advise on producing trustworthy content that is backed by clear evidence and reliable sources.
Further, Google also suggests what to do if someone's content is negatively impacted by such updates.
If your site gets hit by this update, then you need to reconsider the content and see if there is any scope for improvement.
Moreover, Google has listed a series of questions for webmasters to validate the quality of the content.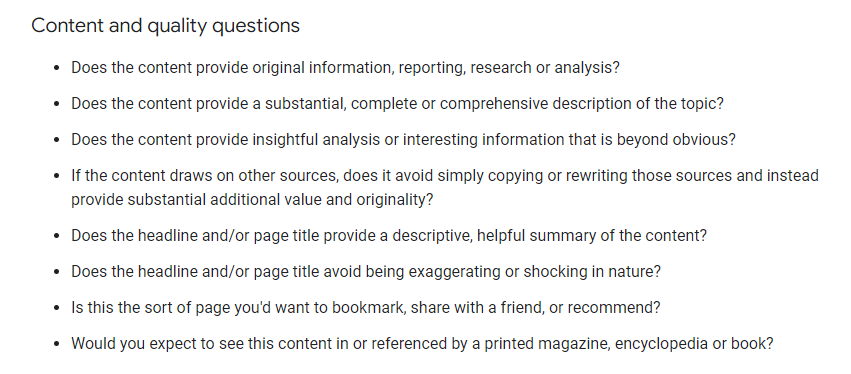 Final Words
One thing that is clear about Google's September 2022 Core Update is that it is going to reward high-quality content. Simultaneously, it will demote low-quality content.
So, if you are worried about your website's performance after this recent core update, then we can help you out.
Our digital marketing experts and professional writers always keep track of the latest Google update and changes in order to bring the best results.
Contact Webgen Technologies to boost your website's performance in search engines.
Views: 132