Gone are the days when SEO (Search Engine Optimization) used to be optional for bloggers or business owners looking to rank their articles or websites. However, now it has become an integral part of digital marketing to establish a strong online presence.
SEO and its related techniques have been evolving constantly and as of 2023, you simply cannot grow your online business or blog without implementing the necessary content optimization methods.
Today, companies are using professional search engine optimization services more effectively than ever to build awareness, promote new services and products, increase visibility online, and convert leads into sales.
Moreover, search engine algorithms are also updating continually to ensure that only well-optimized and informative content offering genuine solutions ranks on the first few pages of results.
---
---
1. A Brief Introduction to SEO
SEO is a digital marketing technique targeted towards making a website more visible and ranking higher on search engine result pages.
The key objective of SEO is to make a site rank on the first page or within the first 10 results of searches on a Search Engine. This leads to a larger target audience and helps direct more traffic to the site.
1.1 Why SEO is Important in 2023?
To the layperson, Search Engine Optimization might seem to be an overly complicated process required only by big business houses and brands. However, in the present-day content marketing scenario, search engine optimization is a vital part of every online business or service, big or small, global or local.
With ever-increasing competition, just ads on TV and print media simply won't cut it. Online marketing is taking over big time, as people are spending more and more time on their smartphones and PCs rather than watching TV or reading newspapers. The digital marketing wave has hit globally, and businesses across the world are increasingly hiring search engine optimization services to fuel their business growth.
1.2 The Impact of SEO Mistakes on Website Performance
According to a 2019 BrightEdge report, around 70% of online interactions begin with a search. Hence, optimizing your content for search engines is a must, if you want to rank your posts and maintain their visibility over time.
As the iconic Murphy's law states: "Anything that can go wrong, will go wrong"; numerous bloggers and advertisers have spent huge amounts of resources and effort, yet failed to generate traffic, just because of the lack of, or improper usage of SEO.
In simple terms, poorly developed content will not be considered relevant by Google crawlers (and similar programs on other engines). This renders it almost impossible to appear in any search results.
Some of the effects of faulty marketing techniques are:
1) Hampers Traffic: For any search, the results on the first page of the engine usually get 90% of the clicks, rendering low-ranked articles practically invisible.
2) Missed Opportunities: SEO offers a deep insight into market trends and user behavior. Once you keep track of what your users are inclined towards, you can modify your keyword research and turn the visitors into potential customers.
3) Inferior User Experience: While searching, the user has a particular need – to find an answer, to look for a product or service, and so on. In this case, poorly created articles may contain the keywords typed in by the user, but not contain the solutions or answers they are looking for.
4) Harmful in the Long Run: Digital marketing methods take months and even years to show effective growth. Consistent use of improper techniques will make search engines pretty unlikely to rank your posts for any search made. The time and resources spent over the years deliver hardly any results, adversely affecting your business or blog.
So, after comprehensive research and consultation with the best SEO companies in India and abroad, we have come up with a detailed list of practices you need to stay away from, if you want your posts to gain traction in 2023, and beyond.
2. Keyword Research Errors
Keyword research is a quintessential part of any content development project. It not only improves the ranking but also directs the style and structure of the content. Some typical errors of flawed keyword usage are:
2.1 Overlooking Long-tail Keywords
Marketers often turn away from long keywords due to their low search volume. What they neglect is the equally low competition – a proven 'low-risk high-reward' strategy.
These long searches are made by users looking for a very particular solution, such as, to buy a product at a certain price range, or a comprehensive answer to a particular question, and so on. "Best Samsung mobile under 15000", or "Blockchain development company in Kolkata, India" would be apt examples.
It is obvious that such searches aren't made that often, but whenever they are, your page is bound to hit the top shelf of a Google search result.
2.2 Keyword Stuffing: The Pitfalls of Excessive Keyword Usage
Keyword stuffing refers to the act of using the same keyword repeatedly and wherever possible, on a website or page. Up till the mid-2010s it used to work surprisingly well, due to Google's oversimplified algorithms. However, Google's new SEO algorithms. or 'crawlers', are significantly more efficient in detecting such practices.
Overfilling your article with keywords is considered a 'schoolboy error' today. It is sure to backfire and the page will be spotted for plagiarism and ranked even lower.
2.3 Ignoring User Intent and Searcher Behaviour
Content creators often dwell on the search volume of a keyword, not considering for what purpose it is being used by people. For instance, you might use a keyword regarding buying a product on your blog post which happens to be a general listicle on that particular category.
Let's assume that the post ranks, and a user looking to make a purchase opens it. There is no sale to be made, thus defeating the entire purpose of being visible.
User behavior is another aspect often ignored. Marketers sometimes choose keywords as they would have searched, in a professional tone. However, the user, uninformed in most cases, will type in simple language that won't match the expert's choice of words.
3. Content Optimization Blunders
Content optimization is the technique of enhancing online content with a specific aim – improving traffic, turning leads into sales, and so on. The page will not be visible unless the content is relevant to what is being searched and is informative and insightful to the user.
3.1 Thin Content: The Dangers of Low-Quality Pages
Thin content can be described as that which lacks quality, depth, and information, and provides almost no value to the user. Such pages used to rank in searches way back, when keyword stuffing used to be effective. But after Google's first update of the Panda algorithm in 2011, this changed for good. It is purpose-built to detect low-quality content like duplicate material, copy-pasted or auto-generated text, affiliate links, and doorway pages. It ensures that they do not rank on Search Engine Result Pages (SERPs).
3.2 Neglecting Mobile Optimization and User Experience
Viewing and navigating a website on a mobile phone is extremely tedious and frustrating. The buttons are tiny, the links are hard to see, and the fonts are often illegible. Moreover, you have to go on scrolling, and the pages take too long to load. This leads to a poor user experience(UX) and clearly hinders conversions and sales.
This is where mobile optimization comes in where your site needs to be modified to work smoothly and intuitively on mobile devices and tablets. It requires enhancing the UX by introducing larger buttons, smaller images fit-to-size, autofill feature for passwords and location, multiple screens in place of long scrolls, and so on.
3.3 Missing or Incorrect Meta Tags and Descriptions
Another repeated mistake while implementing optimizing content is ignoring the HTML meta tags. These are small pieces of text that indicate the contents of the page and basically inform the search engine what it is about.
We cannot see them on the page, but only by opening its source code. These include title tags, meta descriptions, viewport tags, etc. If the tags chosen are not relevant to the content, Google's ranking algorithms will not consider the tags as related to the content and vice versa. This will render all chances of gaining traffic practically nil.
4. Technical SEO Gaffes
Your content might be top-notch and your on and off-page optimization might be on point. However, technical issues, if not taken care of, will ruin the UX of your site. Here are some common errors you can't afford to make.
4.1 Slow Page Loading Times and Site Performance Issues
The loading speed of pages is crucial not only for UX but also for attaining higher ranks for searches. Many a time, developers add too many elements to a page like videos, images, CSS sheets, etc. but do not optimize it for speed. Such sites take ages to navigate and lead to unsatisfied users, low traffic, and lead generation.
4.2 Ignoring HTTPS and Website Security
If your site is not HTTP secured, it will have a gray or red background on the address bar and might show a 'not secure' warning. This will cause users to promptly leave the site and go back to the results page.
Moreover, Google's crawlers nowadays use HTTPS encryption as a signal for ranking. So, the very fact that your content will rank among the first few result pages, is highly unlikely. To avoid this issue, you need TLS or SSL certification for the site.
4.3 Improper URL Structures and Redirects
Content developers and bloggers often make weird URLs for new pages. For instance, your page may end up with something like "index.php?p=25971265" at the end of the URL. This will not only drive users away but also ruin the page's credibility in search engine algorithms.
Hence, make sure your URLs have a keyword so that people know what the page is about, for example – 'investment.com/mutualfunds'. Improper redirects are yet another hazard search engine optimization services deal with.

The internet is an ever-changing space and when sites are restructured or content shifts elsewhere, your audience ends up with the feared '404 error'. It is vital to choose the proper redirect type, i.e., 301 for permanent and 302 for temporary shifts.
5. Link Building Mistakes
Documents and pages on the web connect with one another via links, which act as a glue, holding the web together. Poor link building is a major threat to your digital marketing performance and here are some common examples of the same.
5.1 Buying Links or Engaging in Black Hat Link Schemes
Paid linking is the practice of buying links on a web page or post from popular websites. This used to work back in the day, and so did things like cloaking and keyword jamming. However, with Google's Penguin update, such techniques can be easily spotted. It is no longer possible to con your way to the top of search results by paying large sums for links. Such black hat procedures handicap your site's performance and Google strongly disapproves of it.
5.2 Neglecting the Importance of Quality Backlinks
A backlink is built when a website (one from a totally different domain) includes a link that directs the user to your site. This denotes a backlink for your site and an external link for the one that deploys the link. Neglecting this feature is a key error often committed by developers.
Backlinks from a reputed high-value site can totally transform your online presence and drive significantly more traffic. They are important for search engines as they represent a 'vote of confidence' on your site from others. It suggests that others vouch for the fact that your content is relevant and valuable to users.
5.3 Using Irrelevant or Low-Authority Websites for Linking
While a backlink from a high-authority site can rapidly improve your ranking, one from obscure or low-authority sites can equally bring it down. Such links suggest to ranking algorithms that not only is your content not up to the mark, but also that you are trying to manipulate your way up the SERPs. Low-authority linking is a certified red flag that the best search engine optimization services steer clear of.
6. Ignoring Local SEO
Local SEO refers to the process of modifying your site to perform better for searches that focus on a particular location. Up until 2022, almost 80% of users looked up info on local businesses online, at least once a week. So it goes without saying that sites lacking local optimization are bound to miss out on sales.
6.1 Neglecting Google My Business and Local Citations
Local business owners often spend time and resources on getting a website but do not claim their Google My Business (GMB) page. For instance, if you have a restaurant and someone searches for it, your website will appear on the result page.
But if you have GMB, a page displaying your restaurant's NAP (name, address, phone), along with images, ratings, reviews, timings, and other details will appear on the top-right side of the SERP. Local citations and NAP are a signal for Google's local algorithm verifying the relevance of your site.
6.2 Failing to Optimize for Local Keywords and Geographical Terms
Not using local keywords is one more common slip business owners make. For example, someone living in Los Angeles, California, is more likely to search 'best salon in Los Angeles', rather than 'best salon in California' or 'best salon in the USA'.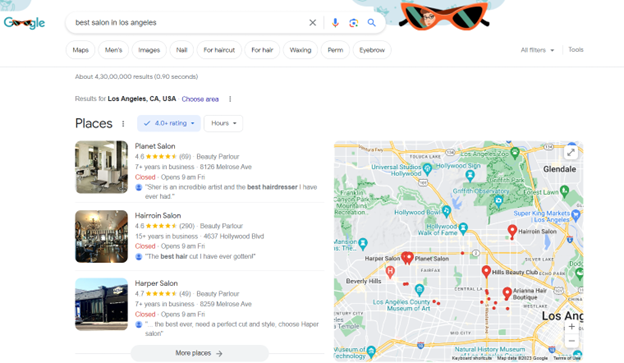 Implementing local keywords, i.e., what people in a specific area are searching, boosts your visibility in search results. This generates totally unpaid online traffic, and inquiries, turning into footfall and sales. Not mentioning exact locations in the form of keywords is an error too costly in a competitive market.
6.3 Not Encouraging Customer Reviews and Engagement
In this digital age, you cannot afford to overlook online reviews across platforms like Google, Quora, Yelp, and so on. Besides building trust and providing valuable feedback, they also play a key role in search rankings.
They are a signal to Google crawlers that your site is legitimate and relevant to the user's query, enhancing your online presence. So, always encourage your buyers to submit reviews on Google and other review sites, explaining their experience with the product or service.
Read Also: The 10-step Beginner's Guide To SEO Audit in 2023
7. Lack of SEO Analytics and Monitoring
SEO analysis, in simple terms, is a health checkup of your website. It involves monitoring and reviewing your site's content, structure, code, and technical aspects to boost search rankings.
7.1 The Importance of Regular SEO Audits and Analysis
A detailed breakdown of your SEO strategy gives you insights into areas where you can revamp your on-page, off-page, and technical components, and ensure a more engaging UX to visitors and potential customers.
Ranking algorithms use hundreds of signals to determine how high or low a site ranks in the order of results displayed. A search engine audit aims to review as many of these indicators as possible and find out what's working well, what's not, and areas that require modifications. Auditing your site is especially necessary if it has been up for a year or more, as the metrics for ranking are evolving continuously.
7.2 Not Utilizing Google Analytics and Webmaster Tools
Another 'expensive' mistake marketers commit is ignoring the free services provided by Google. GA (Google Analytics) lets you track your site's performance, collect data, spot patterns in user activity, get a target audience, and evaluate your overall marketing success.
Google Webmaster Tools, also called Google Search Console, enables you to examine your website's health. It gives you detailed info on crawl errors, page errors, mobile optimization issues, metadata, suitable keywords, security concerns, and a lot more.
7.3 Overlooking Competitor Analysis and Benchmarking
To gain business in any niche, you need to have a great product, and then compare it to that of your competitor. In SEO, analyzing similar websites or blogs helps you identify your competitors, what sites they are linking to, find the right keywords, compare design and UX, and so on.
Benchmarking is the process of setting down a list of KPIs (Key Performance Indicators) as a reference point while formulating your SEO strategy. They include a number of factors like organic traffic, engagement time, backlinks, keyword value, etc. This gives you a clear picture of your KPIs and helps you assess how your site is performing.
On a Final Note
There is no denying that Search Engine Optimization is both the present and the future of online commerce, and those who do not utilize it will fall behind competitors. However, as evident from the discussion, misusing or overusing this method can also lead to terrible results.
Hence, it is advisable to get a good grasp on the matter and seek expert assistance if possible.
If you are an online business looking for website development, mobile apps, or other software solutions, we at Webgen Technologies have you covered. A trusted top SEO agency in India, we have been satisfying clients since 2011.
Views: 409