SEO audit is an absolute must to optimize your website for organic search. With so many SEO audit methodologies and tools out there, it isn't easy to know when and how to start. Which audit tool is efficient in terms of in-depth analysis of your website is hard to understand.
To help you out, we have pinpointed the 10 core elements fundamental to a successful SEO technical audit. We will explain the step-by-step process and suggest some of the best audit tools you can use in 2023.
To make your way up in the Search Engine Results Pages (SERPs), you must keep yourself updated with the latest algorithm changes. On-page SEO factors are more than about just good content and keyword stuffing. The Search engine leader, Google, has nearly 200 ranking factors and keeps adding new updates every month.
Thus, in such a scenario, it becomes crucial that your SEO strategy is flawless and makes your website perform better in search engines. You can also get in touch with our SEO company in Kolkata for an in-depth SEO audit and analysis of your website.
What is SEO?
SEO stands for Search Engine Optimization if you want to know. "What is SEO?" the simple answer is – it is the practice of optimizing your website and its content to improve the quality of traffic from organic searches. SEO services boost the online visibility of the website in search engines. SEO helps your pages rank higher and drive organic traffic to your website.
An SEO audit focuses on the on-page and technical aspects of your website. The process has different parts that work together to bring results. These are on-page SEO, off-page SEO, Technical SEO, and Local SEO. In the next sections of this post, we will discuss the meaning of SEO audit and the process and tools used for SEO audit.
What is an SEO audit?
SEO audit is the step-by-step process of reviewing and analyzing your website to ensure that the site performs well in search engine rankings. It is done to find the strengths and weaknesses of your site and, accordingly, figure out ways to scale.
One important thing about SEO audit is that there are many layers or facets to it that make the process overwhelming. It becomes difficult for website owners to conduct SEO audits without expertise. That's why we have simplified the task by curating a 10-step method of SEO audit for your website.
With the help of this on-page SEO audit checklist, you can determine the health of your business website.
1. Studying site structure and identifying improvement areas
Your website architecture is the pillar of your website. How your website's information or content is structured or ordered determines the users' experiences. You need to check whether the information structure meets your business goals.
Developers and designers strive to create a user-friendly website with an immersive UX that also helps improve website authority. Site architecture also includes checking the number of blog posts per page and overlapping links. For instance, the link to "Recent Posts" or "Popular posts" shouldn't be the same.
Redistributing internal links and passing them to the pages where they are needed is what needs to be done to maximize the desired link space.
2. Identifying the scope for link building
SEO is impossible without building internal and external links. Link building helps in establishing website authority. Through it, you can pass internal links to other pages, which aids in building authoritative hierarchies that improve your website or content credibility. A good example of internal link building is linking one of your old but related blog posts to a newly created content.
While implementing this internal linking process, you should check that information architecture is not hampered. This would simultaneously affect your visitors' experience on the page.
External linking is also valuable because earning high-quality links from authoritative sources will increase your domain authority. One straight-cut method of external linking is looking for rich resources from your niche and approaching those who eager to feature your content and, thus, generate a genuine link to you.
3. Fix thin content
"Thin" content means content that does not satisfy the user's needs. This content is hard to get ranked in the SERPs. Especially when you are dealing with a complex subject, explaining it to the readers in simple language is challenging. Also, you cannot wrap it up in less than 250-300 words.
You need to write long-form explanatory content to add value to your readers. Also, lengthy 1000-2000 word content has other benefits too. It creates more scope for internal linking. And it also provides more opportunities for the writers to squeeze targeted and long-tail keywords. It increases your chances of getting found on Google and other search engines.
4. Remove duplicate content
An important step in an SEO audit is scanning for duplicate content, which can lead to penalties and down your Google rankings. You can mess up your SEO efforts by copying content. When the same content appears in multiple links or URLs, it confuses the search engines and can lower your page by giving preferences to other websites with the same content.
Duplicate content harms your website because Google cannot distinguish between original and duplicate content. As a result, it will lower the rankings of all the websites having same content.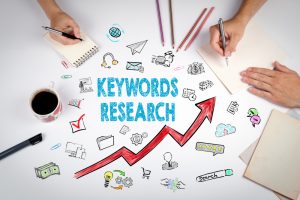 5. Check for Keyword Optimization
Proper keyword research and optimization of those keywords are necessary for improving your site's relevance in search engines. Keyword optimization is the most elementary process of SEO because search engines, through keywords, serve relevant content to the searchers or users on the web.
Scanning your site content for keyword optimization is a crucial SEO audit factor. It ensures your pages appear in the SERPs at the right time to the right users. SEO experts use free or paid keyword tools to find keywords of your niche with high intent. Also, targeting keywords with a high volume and a larger number of searches monthly will help your page rank faster.
While choosing high-volume keywords, you should also make sure that the competition or search difficulty of that keyword is low. Otherwise, you may not be able to rank well when the competition for a particular keyword is very intense.
5. Check whether your site is Mobile-responsive
In this mobile-first era, not making your website mobile-friendly is the biggest blunder one can make. It is important to put your users first and make your website mobile-responsive for their convenience.
Moreover, Google ranking signals also give high importance to mobile friendliness. This means improving mobile usability will influence your search engine ranking directly. By utilizing the "mobile usability" feature of Google Search Console, you can get a report on the mobile-friendliness of your website.
6. Site Speed
Your website loading speed is one of the essential factors for ranking on Google and other search engines. Faster loading speed enhances the user experience and, thus, is preferred by Google.
Research shows that pages with 1 to 3 seconds of loading time have a nearly 32% probability of bouncing. Whereas, for pages that take almost 10s to load, the probability of bounce rises to 123%. When your page takes longer time to load, visitors lose patience and leave.
You can check the page loading speed of your website from the "Site Performance" section in your dashboard for the site audit report.
7. Monitor Your Organic Traffic.
Organic traffic refers to visitors who arrive on your website from unpaid search results. It is a key metric in determining the effectiveness of your website's SEO. To view your organic traffic, go to the "Search results" report in the "Performance" section of Google Search Console.
The report includes several metrics. One of them is "Total clicks". It is the number of times a user clicks on your website during a given period.
8. Scan for errors on your site
A 404 error, also known as a "page not found" error, is caused by broken links and images within your website. For instance, if a page on your website links to content that has been removed, users who click on that link will encounter a 404 error.
Although it is a common misconception that broken links can result in penalties for your website, it is natural for them to occur as content and website structure change over time. However, broken links in prominent places can disrupt the internal linking structure and create difficulties for users trying to navigate your website.
9. Use HTTPS instead of HTTP
Using HTTP on your website is no longer considered a viable option in the current digital marketing environment. HTTPS is faster and more secure and is also considered one of the ranking signals by Google.
To ensure your website runs on HTTPS, enter the non-HTTPS variations of your website's domain (e.g., www.site.com, site.com, http://www.site.com) and confirm that they have been redirected to the HTTPS version.
10. Running a Site Crawl
A thorough SEO audit should be based on the process of crawling. This involves simulating how Google crawls your pages and identifying any issues that Google may encounter.
You can use an SEO auditing tool such as Semrush's Site Audit to achieve this. The audit length will depend on the number of crawled pages, and once completed, you will receive an email notification.
Top SEO Audit Tools To Use in 2023
Are you looking for efficient tools to keep up with constant changes in SERP algorithms? Or struggling to improve your website's ranking despite regularly uploading content? SEO audit tools can reduce manual auditing time and help you select the best option for your needs.
This section explains the top SEO audit tools and highlights their key features to assist you in making an informed decision.
SemRush –
Semrush is a top-rated all-in-one SEO tool that offers one of the best SEO audit tools on the market. The audit tool has over 130 checks that cover various aspects of a website, including crawl ability, page speed, backlink profile, and security.
The reports generated by the tool provide detailed insights on how to improve your site's ranking based on your target audience and their search behavior. Semrush audits also provide suggestions for link-building opportunities and other technical optimization tweaks.
Google Analytics –
With Google Analytics, you can easily track and analyze the online traffic to your website. Understand user behavior and tailor your website's content and ads to better serve them. Use data reports, conversion tracking, and segmentation tools to improve your SEO and marketing strategies.
UberSuggest –
It is another popular SEO audit tool that offers rich features like backlink monitoring, competitor analysis, rank tracking and managing links. Through Ubersuggest dashboard, you can get a comprehensive view of website's performance.
Ahrefs –
Ahrefs SEO audit tool helps you to uncover the technical issues that harms your website's rankings on search engines. You can check and fix your on-page factors like broken links, crawlability issues, missing descriptions and titles, and so on.
Google Search Console –
Also known as a Google Webmaster Tool, this tool by Google helps you find problems in your website by analyzing past data. The insights from Google Search Console are extremely useful in identifying usability issues and indexation with your website. It checks and tracks AMP pages, highlights 404 error pages, and provides insights on the search terms that make people land on your page.
SE Ranking –
SE Ranking is a top choice for a comprehensive SEO audit tool. Thanks to its powerful page crawler that can scan hundreds of pages in just minutes. It offers a wide range of on-page and off-page SEO checks, including page speed, indexing, and backlink analysis, allowing you to fully audit your website with just one tool.
Raven Tools –
Raven Tools is a premier SEO tool that offers a comprehensive package of site audit, competitor analysis, and reporting capabilities. It is a SEO toolkit that enables you to audit your site for various SEO issues and offers features such as competitor research, keyword rank tracking, and visually appealing reports.
One of its key features is the ability to visualize your site audit and address all issues with an easy checklist.
Final Thoughts
Understanding SEO and its significance in today's world of online marketing have become paramount. Merely creating a website and launching it will not increase your visibility on the web. You need to make your website discoverable to people, especially to your target audience.
SEO will be effective only when you have eliminated the issues hindering its performance on Google and other popular search engines. But how? By employing the SEO services of a reputed digital marketing company in Kolkata. Their SEO professionals use the best audit tools to detect the flaws in your website and suggest ways to improve your existing website.
Views: 268