Planning to create a mobile app for your business? Don't know how to hire an app developer who can turn your imagination into reality? Well, then, you are on the right page. This post is a comprehensive guide to choosing a reliable and proficient app developer to build your app.
Developing an app can help your business in many ways. Besides enhancing your customer's experience, an app helps you to target more potential customers. Whether your business sells products or services, it doesn't matter. You can make them accessible easily to your customers through a powerful application.
Before we move on with the tips to keep in mind before hiring an app, we'll throw some light on other aspects, such as the importance of hiring an app developer, the best places to find app developers, and the cost of hiring a developer.
Why Hire Dedicated Mobile App Developers?
Mobile app development is a challenging process involving a lot of crucial steps. Some of these are building APIs, enhancing user security, and integrating third-party tools. Accomplishing this task requires distinct skills and coding knowledge that only a mobile developer possesses.
Hence, your hunt for a dedicated app developer must start the moment you decide to launch your first mobile app.
The exceptional advantages you can derive while outsourcing your project to a dedicated professional are –
Milestone Oriented –
When you reach out to an offshore agency, you will have access to several highly experienced resources who know what you expect from them. After assessing your project requirements, they will set an exact timeline to complete it. You will also get a dedicated project manager who will divide the process into different stages, thus streamlining the entire process.
Lowers Cost –
Outsourcing your project to a mobile app development company is significantly less expensive than hiring in-house resources. Moreover, such companies always charge prices that fit every client's budget, whether small start-ups or large-scale businesses.
Top-Notch Quality Application –
Hiring seasoned professionals with niche expertise is an added incentive. A mobile app developer of an established and reputable company usually has years of experience and rich technical knowledge. The diverse skill sets and proficiency of experienced developers will always ensure that their app is first class quality and offers the best user experience.
Easy to Manage –
There are multiple layers in an app development process. Besides, meeting clients' myriad requirements and addressing repeated modifications requires patience and a good eye for detail. In such a scenario, hire dedicated app developers is the best decision. Managing them is easy, and they are always available to listen to your specific needs.
Which is the Best Place To Find App Developers?
India is the most preferred country for app development by businesses worldwide. But why is India considered one of the top destinations for hiring app developers? There are a plethora of reasons behind this.
India is a hub of talented IT professionals who have already established themselves in the top IT firms.
The cost is much less compared to any other country, especially if you compare it with western nations.
The app developers have long-standing expertise in working with the latest technologies, frameworks, and tools.
Communication is hassle-free and efficient because of the easygoing time zone.
Hardworking individuals work dedicatedly to deliver solutions with shorter build times.
Cost of Hiring App Developers
An exact cost estimate is hard to determine because certain factors influence the cost of app development. Also, it depends on the key function i.e. the purpose of the app. The price or rate charged by an app development agency or an individual developer can cross from hundreds to thousands of dollars, completely based on what it does.
However, the most important determining elements that help to understand the cost of hiring a dedicated app developer are project requirements, project scale and complexity, features to be integrated, and total man-hours.
Now comes the most important segment of this article – How to select the best app developer in India.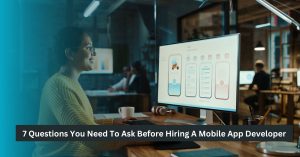 7 Questions You Need To Ask Before Hiring A Mobile App Developer
Many of you might have searched on Google "app developers near me," with the intention of hiring the best professional to create your business app. So, here are some special tips for evaluating the capabilities of app developers.
These are the questions you need to ask your service provider or developer before making a final decision.
1. How many years of experience do you have in mobile app development?
The quality of the project your developer delivers will depend on his or her experience. An experienced candidate with seven to eight years of experience has the necessary knowledge and ample experience developing the kind of app you need.
Knowing your developer's professional background, years of experience and skill sets will help you make an informed decision. Also, ask for samples or a portfolio showcasing his or her work done for previous clients. This would help you comprehend better whether the candidate is suitable for your project and would meet your expectations.

2. How long will it take to complete the project?
This is an equally important question because you must ensure your hired developer meets your deadline. Different apps require different time lengths to complete. Therefore, it would be wrong to assume that every app requires the same time to design, develop and deploy.
It can be an offline and simple standalone app with minimum functionalities or an enterprise application with complex features and online connectivity. Some apps take a couple of months, while some may extend to a year to complete. Whatever the case is, you must have a clear picture of the estimated timeline of your project.
3. How much will be the cost of app development?
As mentioned earlier, it is hard to get an exact cost estimate without discussing your project goal and requirements in detail. After determining the scope of your app, the number of features, API or third-party integrations, and the platform for which it needs to be developed, the cost is decided and conveyed to the client.
Furthermore, the nature of complexities or challenges that developers may encounter during the development process and app maintenance post-development influence the total cost.
Although it is essential to see that the developer does not charge excessively, you shouldn't go for cheaper alternatives to save costs. Sometimes the low cost can take a toll on the quality of your application. A poorly-built app will increase your cost in the long run. Therefore, seek the services of developers with reasonable and affordable rates.
4. Are you able to design the app as well?
The UI design is an integral part of your app project because it is the design that will make your users' experience on the app enthralling. Hiring separate UI UX designers involves a large amount of cost and so, it would be better if you know someone who is both a designer and a developer.
But such a combination rarely exists. In that case, you can reach out to the best app development agency. They have a complete team of designers and developers who work effortlessly to build an interactive, user-friendly, and feature-rich mobile application.
5. Can you develop apps for iOS or Android or both?
Since android and Apple devices have different operating systems, make sure you have a clear-cut discussion with your developer regarding which platform you want to choose. If you want an app only for Android users, then you must reach out to the one who has great skills and technical knowledge of android operating systems. For apps on iOS devices, separate technical skills, and expertise are necessary. If you are willing to build an app for both platforms, then connecting with a reliable agency is the ideal thing to do.
You can ask your developer to share certifications of the relevant OS as this would let you have complete peace of mind. You also need to know whether the agency and its team adhere to the coding practices.

6. Will you be providing app security and usability testing service for my app?
Checking how your app functions and how users are going to interact with your app is an important part of the mobile app development process. You should never approach someone who just creates the app and leave the rest to you.
Testing the app's performance, usability, scalability, and security is essential to make your app successful. Customers will never download or install an app that poses security threats and has chances of data breaches. Enhancing strong protection of user data is imperative to building a profitable app.
7. Will you be able to provide me with support and maintenance post-project completion?
To retain the quality of your app, regular maintenance and support are a must requisite. Although most clients allot a separate budget for app maintenance, you need to make sure whether the same developer or service provider is going to help you with the support service. This streamlines the post-development phase because you already know the developer well and hence can communicate effectively.
Mobile app support and maintenance include debugging errors, identifying technical glitches, and checking app performance. If customers face problems using the app, they are more likely to uninstall the app and never use it again. Thus, while entering into the contract, you must make sure whether technical support is provided by your application developer or if you need to hire someone else for the same.
Final Words
When it comes to bringing your mobile app vision to life, the experience and expertise of your development provider are crucial. Whether you opt for an individual professional or outsource to an agency, it's essential to thoroughly research their background and familiarize yourself with their work process, project costs, and estimated timeline.
At Webgen Technologies, our award-winning team of mobile app developers can turn your incredible app idea into a digital reality. As the best app development company in Kolkata and with over 200 successful mobile app projects for a diverse range of clients, from startups to big enterprises, our expertise is unmatched. Contact us today to bring your vision to life.

Views: 221