The buzz around eCommerce is never-ending. It is evolving day by day and is gradually expected to replace most brick-and-mortar retail stores. Moreover, the cut-throat competition in the eCommerce industry has resulted in the emergence of incredibly innovative and beneficial trends in the eCommerce space in recent times.
2023 is a great year to start with your first online store, as this new year welcomes some of the greatest innovations in this niche. Ecommerce website development companies are continuously updating their development process to keep pace with the rapidly changing demands and expectations of consumers.  Let's have a look at those ecommerce trends in 2023 that business owners need to integrate in order to scale their online businesses.
Top 10 Latest Ecommerce Trends to Follow in 2023
eCommerce web development has experienced unprecedented growth and phenomenal changes in the last few years. With more interesting and sophisticated features being discovered and coming to light, it becomes essential for online business owners to implement them in their business model to stay ahead of the competition. Following are the top 10 trends that are supposed to take the lead in 2023.
1. mCommerce is the new eCommerce
The weight of mobile applications in the eCommerce space has increased a lot in the last five to six years because people are more comfortable shopping online via mobile phones. Hence, make sure to integrate a mobile-first strategy in your eCommerce solution. As per Statista, mobile phones generated around 73% of retail site traffic worldwide in the third quarter of 2022.
The rise of mCommerce or mobile commerce yields certain benefits that retail owners cannot afford to lose when in business. Reasons why an eCommerce web development company must give equal importance to mobility are
It helps your online business grow faster by reaching more customers
Gain new potential customers who prefer only mobile apps for shopping
Retain old customers through repeat business by SMS and push notifications
Enhances shopping experience by providing location-based personalized recommendations
2. Voice-enabled searches give an all-new shopping experience
Voice search is a mandatory feature that every smartphone has. More than one-third of mobile users utilize voice and virtual assistants (Siri, Alexa, Google Assistant) regularly for day-to-day activities like making calls, sending emails, playing music, checking the weather, and shopping online. This is why online retailers demand voice-search features in their eCommerce platforms. Virtual assistants for online browsing of products optimize a shopper's search experience.
Voice-enabled searches in online shopping help in
Increasing access for shoppers with disabilities (it's a hands-free way of shopping)
Making the search process quick for shoppers without requiring them to shift from one tab to another
Eliminating the language barrier as voice search also offers easy translation
3. Welcoming Augmented Reality and Metaverse
Introducing AR in the eCommerce world lets customers experience their products in digital space before final purchase. By augmenting a digital product in a place that already exists in the real world, AR helps buyers interact with the product and get feedback on their experience.
Furniture e-retail shops allow a buyer to take a look at how a sofa or bed will look in his or her room through AR technology. In the same way, you can also test your look for a particular cosmetic product before placing the order. Other outstanding examples of VR integration in online shopping are virtual try-on for watches, lenses, spectacles, and sunglasses before buying.
AR in eCommerce:
Improves engagement of customers
Provides a better shopping experience
Reduces chances of product returns ( since customer now has a better and 3D view of the product)
4. Flexibility in Payments
Although eCommerce, at first, began with cash, credit, and debit cards only, later, it proceeded to more secure and flexible online payment options. In fact, many ecommerce websites offer a Buy Now Pay Later (BNPL) facility that lets users pay the price of the good in installments over a certain period of time. Since it is mostly interest-free, users are more inclined towards this BNPL option over credit card payments.
One of the most popular eCommerce development platforms – Shopify, offers this BNPL plugin and website development companies can easily integrate this feature while developing an online store for retail businesses. Making the payment process fast and convenient will boost your eCommerce sales. Hence, incorporating digital wallets and other secure payments interface can enhance the checkout process of buyers.
Offering flexible and versatile payment options
Reduces the chances of abandoning the cart before the final payment
Boosts sales by increasing convenience and gaining the trust of the buyers
Speeds up the payment and order checkout process
Increases the total cart value because buyers now have the option of paying later
5. Video Ads for marketing
You will be surprised to know that 63% of YouTube users say they bought a product or service after seeing its ad on YouTube. Put simply, YouTube serves as the best platform or a window to make viewers aware of your brand and connect with them. Besides, it is a shopping window that is open for customers 24*7.
Adding a "Shop Now" button makes the video "shoppable" and as per recent reports by Interactive Advertising Bureau, shoppable videos increase conversion rate by shortening the shopping journeys of the consumer. Hence, you shouldn't lag in the race by not making the most of this tactic. Hire proficient developers to implement shoppable video ads or bumper ads of your eCommerce product which would play before a video starts and will engage with the viewers and, perhaps, entice them to make a purchase.
6. Influencer marketing takes over celebrity endorsements
Forget spending fortunes on celebrity endorsements when you can drive more revenue through influencer marketing. In the era of social media, make the most of what's trending everywhere. And influencer marketing is one of those exciting trends in business marketing, and you should also start doing it for your eCommerce shop. Also known as social commerce, this marketing method involves product promotion and selling on popular social media platforms such as Instagram, Facebook, Snapchat, TikTok, and YouTube Shorts.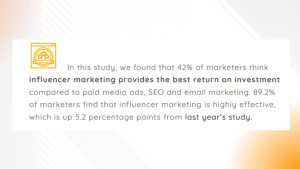 Influencers have gained attention on these platforms through their valuable and meaningful content and can become the ideal voices for your brand. Followers trust them, admire them, and like their content. So, you can attract potential buyers to your store through product recommendations and promotions on their pages. Influencer marketing is a remarkable strategy to make social media users aware of your brand without burning a hole in your pocket. It wouldn't be wrong to say that they will bring the highest ROI compared to other traditional paid marketing methods. A study conducted by Social Publi, a connecting platform for influencers and marketing, concluded the below findings.
In short, influencer marketing brings the following benefits.
Influencers have social proof, which helps in increasing conversions
Brands can grow their followers with the help of influencers
Encourages customer engagement by promoting communication.
7. Live Shopping is getting all the attention
Are you familiar with the words " Swipe Up to Buy Now" on social media? Well, this is a newly trending feature that ecommerce retailers are using to win more customers. It provides the users with an option to buy instantly when they see your live product content. Also, live selling promotes interactive shopping as buyers are not only provided with a buying link but also get to interact, ask questions and make queries before purchasing in real-time.
The three biggest players in the market currently popular for live shopping are Walmart (in collaboration with Tiktok), Amazon Live, and Facebook live.
Live streaming helps online businesses in 4 ways:
Builds brand recognition
Reduces chances of product return ( because customer review the quality live)
Improves engagement among customers
Reaches more customers across various locations in a short time
8. Personalized Shopping is the New Norm
Personalizing your customers' shopping journeys will ensure they keep coming back to your site for every purchase. Personalization feature is one of the recent trends in e-commerce in India as well as outside India that is driving the decisions of shoppers. Through this, you can customize the product browsing experiences of your buyers.
Personalization works best while shopping for apparel, gadgets, and home appliances. You can recommend products as per your buyers' choices, preferences, and past buying history. You can also suggest a similar product or brand when a chosen product is out of stock. Besides, through SMS and push notifications, you can make your users aware of the latest sales, discounts, and offerings.
Personalization in online shopping aids in
Building strong relationships with buyers
Retains old customers and increases repeat business
Offers your customers the best deals, which increases conversion rates
9. Omnichannel Marketing is coming to the forefront
The continued rise of Omnichannel marketing i.e. marketing across various channels, has led to the creation of new revenue streams for online business houses. To boost sales, you need to improve your customers' experiences and to improve your customer experience; consistency is the key. Selling or promoting products across several touch points results in a higher purchase rate compared to single-channel marketing. These touch points for selling are in-store engagement, ecommerce website visits, mobile shopping through apps, and phone calls. Due to the presence of multiple selling channels, customers can now have a better buying experience by opting for the one they are best comfortable with.
The omnichannel strategy brings the below advantages.
Ensures customer satisfaction by giving them a smooth buying journey
Increases seller's reach and availability
Shoots up sales because products are sold in multiple channels
10. Chatbots are here (to help you with shopping)
Chatbot development in eCommerce websites or apps is an effective strategy to drive lead generation and increase sales. Chatbots can guide customers in real-time in their product search, answer queries, recommend products, and solve order-related problems.
Besides, you can interact with the chatbot to know the status of your order, estimated delivery date, and time. Chatbots have made online purchases easy and hassle-free. Therefore, when you approach a top ecommerce website development company to build your online marketplace, make sure to incorporate a chatbot.
Chatbots are helpful in
Providing customer service support 24*7
Increasing leads through effective communication
Guiding shoppers and enhancing their buying experience
Get Set for Success with a Trusted eCommerce Web Development Company
Now that you have a clear idea of what's trending in the eCommerce industry, it's time to implement those trends and take your eCommerce business to the next level. Need a tech partner to help you out with integrating these updates? We can help! Being an experienced and reliable software development company in India, we can assure you that our eCommerce solutions are future-ready and tailored to your business needs.
Wrapping Up
To grow faster in your niche, you must look ahead and not behind. As you know, the online shopping ecosystem is highly competitive, and new retailers are entering the market now and then.
Thus, adapting to the latest market conditions, embracing the newest trends, and meeting customers' fast-evolving expectations are the three ways to get a strong foothold in the industry. Hire developer in India who knows the latest ongoing trends in the field of eCommerce and also keeps an eye on future trends in ecommerce. You can also request a free consultation before hiring our experts to create an interactive and highly-functional ecommerce store.

Views: 244