This year, Webgen Technologies completed 8 years of a global journey of delivering innovative software solutions to clients. Being an IT-based firm, we've come a long way and would like to take a moment to show our pride and express our happiness. On the occasion of our 8th anniversary, our organization decided to host a fun-filled party to thank and show gratitude to every member of Webgen Technologies.
Amidst all the lows and highs, critical difficulties, and unwanted hindrances, Webgen Technologies stood rock solid and continued delivering impeccable services to clients worldwide. It has set a benchmark in the industry and has become an inspiration for start-ups and enterprises alike.
Webgen Technologies was founded in 2011 with two talented designers and a modest investment. Led by an entrepreneurial spirit, the dream of our Founder, Mr. Samik Chakraborty, was always to become the most trusted and top-rated service provider in the IT field. Slowly, it grew with more talented employees joining us, more accomplishments, and diverse clients coming in. Later, we migrated to a bigger workspace to accommodate more talented individuals and take our business to new heights.
Now we are 8 years old with 100+ members. With the proudest smiles and vivid experiences, it's time to celebrate this spectacular journey of 8 years. And this, of course, calls for a grand celebration. Undoubtedly, it's a voyage with endless learning and steady growth.
Our success is no longer confined to the geographical boundaries of our nation, India. We have expanded our business globally with offices in Olathe, Kansas, and Kuwait. In these eight years of service, we have marked our presence and set a strong foothold in the industry. Clients from varied industry verticals rely heavily on us for software, website, eCommerce, and mobile app development solutions.
Today, we have spread our magic in every sector with 1000+ successfully completed projects, 350+ happy clients, and 250+ repeat customers. Whatever we are now is because of the trust and faith of our clients, and we couldn't be more grateful for all the opportunities they have given us.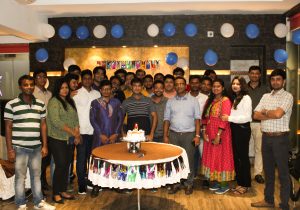 The wonderful 8 years journey of Webgen Technologies summarized.
2011 – This year was the inspirational beginning of Webgen Technologies. It also marked the start of IT solutions to help startups and big businesses embark on the digital journey.
2012 – We delivered our first successful project, which gave us the confidence and boost to continue evolving and delivering cutting-edge solutions.
2013 – We updated our technology stack and hired more talents to serve client-specific needs. For instance, developing hybrid apps apart from native apps and providing eCommerce solutions.
2014 – We became the first developer in Asia to create a Malaysian EV carsharing application. Since then, our horizons of app development and website development services have widened.
2015 – This year marked our reach as a software development company in the international markets with collaborations with global marketing partners in the Middle East, Central Europe, and North America.
2016 – We earned recognition globally and became a part of the NASSCOM community. We are also delighted to share that we stacked nearly 250 positive reviews on Google, Glassdoor, Ambition Box, and other review sites.
2017 – With 30% YOY revenue growth, Webgen Technologies continues to deliver web and mobility solutions using the latest revolutionary technologies like AI, ML, Blockchain, and cloud computing.
2018 – This year, we raised the bar of our service by partnering with NASDAQ-listed companies. This gave us immense scope to upgrade our skill sets and technical knowledge to provide robust and scalable solutions.
Closing Thoughts
Completing 8 years is a remark of pride, honor, and excellence. And this cherishable moment demands a grand celebration. We had a blast celebrating with all the members, partners, and honorable guests.
Our clients are an inseparable part of our journey. Hence, we also want to thank them for walking with us steadily and helping us evolve at every step. Their firm faith in us has helped us reach the top. As we enter into a new phase of IT experience this year, we owe our employees their unrivaled support and sheer dedication.

Views: 395