The term "Metaverse" is grabbing all the headlines in 2023 and will continue to do so in the years to come. But why? Metaverse is an experiential technology that eliminates the gap between the virtual world and the physical world.
Through Metaverse, people now can reimagine digital experiences that go beyond their thinking power. At the same time, it opens up doors to endless exciting possibilities in varied industries and domains. eCommerce is no exception to this! In fact, AR and VR, which are the cornerstones of the metaverse, are considered one of the top eCommerce web development trends in 2023.
In this blog post, we will be discussing the term Metaverse, its role in eCommerce, and how it is bringing a technological revolution to the eCommerce landscape.
So, without further ado, let's get into the details.
---
---
Chapter 1 – Introduction
Explanation Of Metaverse And Its Impact On E-Commerce
The term Metaverse comes from combining two words – Meta, which means "beyond" in Greek, and "verse" which means "universe". To put it simply, Metaverse is a parallel imaginary world that is created by converging the physical world with digital reality. It is an ever-expanding real-time 3D virtual realm shared among an infinite number of users across digital platforms like eCommerce, games, etc. to give them a whole-new captivating experience.
According to Meta, the parent company of Facebook,  "Metaverse is the next evolution of social connection." Metaverse is a computer-generated environment where users experience a whole new virtual space where they can interact, play, learn, shop and socialize.
Impact of Metaverse on eCommerce
Metaverse can be thought of as a 3D internet version that is poised to be a breakthrough in the eCommerce space. From monotonous static pages to a mesmerizing 3D experience, the internet has come a long way than the human race has ever imagined.
Metaverse commerce brings together the convenience of online shopping with physical commerce in one place. This technology is the new frontier in the online retail industry that brings along interesting opportunities for eCommerce businesses which we shall discuss in the later sections of this article.
It cannot be denied that Metaverse is the new beginning of eCommerce which in a way is going to revolutionize the industry. This new era of online commerce can be called immersive commerce because it breaks all the conventional notions of online shopping and lets users experience a peek into a virtual world and get a real-life shopping experience.
Chapter 2- The Potential of Metaverse E-Commerce
Overview of Metaverse e-commerce: The eCommerce industry is currently the most thriving sector in the world. Ready and instant access to an internet connection is one of the prime reasons for this fueled growth of online shopping in these recent years. As per Statista's report, retail eCommerce sales are projected to grow to 8.1 trillion by 2026.
In addition to this, the emergence of Metaverse has brought a new wave of change. eCommerce giants like Amazon and eBay were the first to explore the benefits of this game-changing technology.
Metaverse Commerce will merge offline and online commerce and with more innovations coming the way, it will usher in more interesting features.
With several cutting-edge technologies working in unison such as blockchain, AI, NFT, etc, Metaverse is redefining the online shopping experience by providing a sociable marketplace to shoppers. The experience is both exciting and novel in the virtual world.
Shoppers can explore products and interact with them in real time. This helps them decide better and see whether a product meets their needs. Shoppers no longer need to deal with long queues or crowds in the physical store and yet get a close-to-real 3D view of a product in the comfort of their homes, In short, Metaverse has made shopping extremely convenient.
Benefits and drawbacks of Metaverse e-commerce
Every technology comes with its upsides and downsides. Metaverse too has some benefits and drawbacks.
Below is the list of benefits that Metaverse brings to eCommerce businesses all over the world. More precisely, this list explains why you need to connect with a top eCommerce web development company to explore these benefits.
Levels up the customer's shopping experience of the customers
Customers always expect to have a smooth and seamless shopping journey online. And when they are provided with an opportunity to interact with a product before or during the purchase, it enhances their level of satisfaction.
Metaverse, within its virtual try-on features, gives them a similar feeling of visiting a store and trying a product or touching the product before the final purchase.
Maximizes eCommerce Profitability
Metaverse, by exceeding the customer's expectations, has helped online retailers fuel their revenue. Customer retention becomes easy because this pathbreaking innovation combines in-store shopping experience with online shopping.
eCommerce store can now showcase their products better and give users the opportunity to try them out virtually with augmented reality. They can check out shoes, watches, apparel, and other items before buying by interacting with them digitally.
Strengthen community engagement
It is no surprise that Metaverse promotes customer engagement and also brings the eCommerce world and social media world together. The rising popularity of Metaverse has led to an increase in social engagement and interactions between users.
It aids in stronger community building which significantly impacts a brand's online growth because of referrals and customer hype. Social proof is not about online reviews and ratings anymore. Customers interact and engage directly with the brand in real-time and share their experiences.
Fast expansion in the Global Market
The best thing about the metaverse is that it is not real. It is a digital space running parallelly with the physical world and so, a metaverse platform is accessible to anyone from anywhere.
This universally accessible quality of Metaverse is leveraged by eCommerce business owners to reach customers in other distant countries and expand their customer base.
Make innovative and attractive advertisements
Brand awareness is necessary for every brand to grow and sustain itself in a competitive market. You can use Metaverse technology to create immersive ads and tell your customers stories in a captivating way.
Meaningful advertisements with VR/AR integration can help your audience transform from passive listeners to active players by letting them "experience" your brand story.
Making e-Wallets transactions seamless
e-Wallets and digital currencies eliminated the need for sellers or buyers to tie up or link their cryptocurrency accounts with their bank accounts. They can initiate transactions directly from the e-Wallets.
Besides making payments fast and hassle-free, it promotes transparency in costs. The purchases made in the virtual world are adequately documented to maintain clarity in transactions.
Now let's come to the downsides of Metaverse technology in eCommerce.
Advanced technology integration – If you want to take your business to the next level with Metaverse, then you have to make sure that your organization is capable of integrating high-end technologies like AR/VR headsets, smart glasses, wrist-based bands, etc. Moreover, the computer system needs to be advanced and should be perfectly functional.
Privacy – Although the hype around Metaverse is undeniable, the privacy concern remains. Since the tech is in its infancy stage, no one is sure how much secure it is and whether there it is capable of preventing data breaches and ensuring the full privacy of users.
Need more technical professionals – The devices or equipment that are used in Metaverse technology needs distinct knowledge and expertise. Therefore, you need to hire more technically skilled professionals which raises your company expenses.
Dependable internet connection – Steady access to the internet is a must to connect users with the Metaverse world. Since Metaverse is a graphically rich high-definition and three-dimensional virtual world, a steady and fast internet connection is a must requisite such as fifth-generation wireless connectivity or fiber-based connections.
Negative impact on culture or society – An atmosphere of fear surrounds the Metaverse because many believe that this new pattern of connecting people of the real world with a parallel imaginary world might impact human behaviors and harm real-world relationships.
Current use cases of Metaverse e-commerce
An article by Forbes highlights how Amazon has already incorporated metaverse into its online marketplace in the early stages. In other words, Amazon had scratched the surface by letting this technology reshape the online shopping experience.
Amazon has a Room Decorator and AR shopping tool that allows users to see how furniture or a home decor item will look in the actual space from their phone or tablet. You can also view various products and even save AR snapshots of the room to view later.
Apart from Amazon, the other top early Metaverse adapters in eCommerce are –
Nike – Nike has built its metaverse environment called Nike Land, that leverages a platform called Roblox, to connect and engage with users. It elevates the brand experience with the users by offering exciting contests, sports, and games. Nike is one of the first POCs for metaverse eCommerce in the mainstream.
Johnson and Johnson – This pharmaceutical giant has also entered into the Metaverse league by launching their trademark applications for two NFT beauty products – "Neutrogena" and "Aveena". The healthcare brand made a public announcement through a witty tweet that starts like this – "Dry skin will not be a problem in the Meaverse.".
Disney – Being the world's top entertainment company, Walt Disney introduced Starverse, its first metaverse platform for its Indian subbrand Disney Star. The platform promises to give Disney lovers and sports fans a whole new dimension of user engagement and interaction.
Dominos Pizza – Among the food brands, it is Dominos that received its first order from a virtual world called Decentraland. Pizza lovers who participate in the Metaverse platform Decentraland for developing and trading NFTs and virtual plots can order pizzas from the Dominos outlet on the platform and get them delivered to their physical addresses.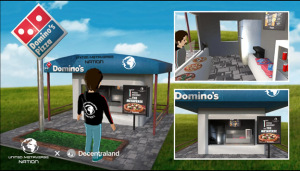 Levi's – Levi's continues to woo the millennial generation by capitalizing on the Metaverse trend with virtual wardrobes. The shoppers have access to a virtual fitting room where they can try on Levi's apparel and see how it looks on them without touching the garment physically.
Chapter 3 – Metaverse Marketplaces
Overview of Metaverse marketplaces
Metaverse marketplace is a virtual platform that facilitates buying and selling of digital assets (NFTs), virtual properties, patents, copyrights, etc. This type of marketplace is supported by cutting-edge Blockchain technology and all the NFTs are purchased and sold in the metaverse using either cryptocurrencies or real-world currency.
Metaverse marketplaces offer ample opportunities to digital creators and sports fanatics to trade their unique digital arts, gaming assets, GIFs, NFT assets, audio, video, etc. The platform also lets users attend presentations, visit virtual galleries, and explore new games.
Business owners can use this trending technology to purchase a digital plot of land to set up a virtual store. They can use this marketplace to connect with users in the metaverse world and uplift their shopping experiences.
Comparison with traditional e-commerce marketplaces
Unlike traditional online stores, metaverse marketplaces give users a different kind of shopping experience that is both interactive and immersive. This is something that was earlier impossible to think of. The aspects where eCommerce marketplace varies from traditional marketplaces.
Virtual Reality Experience – It is true that traditional eCommerce marketplaces indeed offer shoppers the convenience of viewing a wide collection of products sold by numerous sellers in one place. However, it is the Metaverse marketplace that offers shoppers a virtual reality shopping experience. It allows them to find products and view them in a 3D environment.
Elevates the Branding Experience – The experience of the buyers with the brand gets more immersive via Metaverse compared to traditional online shopping. For instance, hosting of brand events, games, and contests in the metaverse world helps the users engage with the brand in a unique way.
Gamification – Another advantage that the Metaverse marketplace offers that traditional eCommerce fails is the use of gaming platforms to enhance the shopping experience. Giving them special discounts, rewards, etc, for completing tasks or achieving milestones.
While both marketplaces provide unique advantages, there are some areas where traditional eCommerce marketplaces have an upper hand over the metaverse marketplace. For instance, you can compare prices between various sellers and products and post customer reviews by sharing your experience with the product to help potential buyers in better decision making.
Current use cases of Metaverse marketplaces
Real-life examples of metaverse marketplaces that have already established themselves with their outstanding features are discussed below.
Decentraland – This is the first-ever 3D virtual world, based on the Ethereum blockchain, where users can play games, buy, sell, and exchange digital collectibles such as NFTs, artworks, avatars, gaming weapons, special powers, etc. Decentraland offers users great scope for socializing and interacting with others on the platform.
Roblox – As mentioned in the earlier segment of this article, the Roblox metaverse platform is a parallel space where users can play games by creating their own virtual world and make in-game purchases, attend events, and collaborate with other brands. You can also build your own fanbase and drive audiences to your community.
Voxels –  This is another spectacular use case of Metaverse that supports virtual reality and allows users to trade their virtual properties, wearables, game assets, and other digital collectibles. You can even create your signature collections such as unique avatars to trade in Voxels. This marketplace even hosts various events on the Metaverse space where users can take part and engage with other users.
Metahero – This marketplace, Metahero, is created in a unique way to provide users with a seamless interface for trading 3D objects. Users need to possess Hero tokens to initiate transactions. These tokens are similar to digital currencies which users can also use in the platform to upgrade their Hero traits, collect rewards, and get promoted to the next level. Metahero's process of converting a product into a 3D image by simply scanning it using 3D scanners is amazing.
Xanalia – A pioneering NFT metaverse marketplace that operates three popular blockchain networks – Ethereum (ETH), Binance Smart Coin (BSC), and Polygon. NFTs created using this Metaverse platform can be traded in other virtual worlds or Metaverse applications. XANALIA ensures authenticity or randomness with the help of Chainlink VRF which is a secure verifiable random number generator.
Chapter 4- Future of E-Commerce Marketplaces
Evolution of e-commerce marketplaces:
Although eCommerce marketplaces had a surprising tale of ups and downs, it is the only place that serves as a prominent junction for buyers and sellers to find each other and crack the best deals.
It is a seamless shift of the retail sector from traditional brick-and-mortar stores to online platforms. Another noteworthy fact about eCommerce marketplaces is that they offer tremendous opportunities to small-scale manufacturers to create brand awareness, sell products, and generate revenue.
As per a Buzzfeed article, nearly 55% of online product searches for US people are done on Amazon, and Amazon alone comprises 37% of total online shopping done in the United States. The reason is that Amazon, as an online eCommerce marketplace, provides ample scope to sell a wide assortment of products belonging to vivid categories.
With the advent of Metaverse, offline commerce combines with the online world to provide more immersive and refreshing shopping experiences to customers. Virtual product try-on not only boosts their confidence before buying a product but also gives them ultimate convenience.
Now, let's move ahead to the next segment which will throw light on the Metaverse technology integration into eCommerce marketplaces.
Benefits of Metaverse-integrated e-commerce marketplaces
The integration of the Metaverse in eCommerce not only helps online retailers overcome certain challenges but also helps them create new revenue streams. The incredible advantages that metaverse eCommerce brings to online marketplaces are as follows.
Increased Revenue – A recent Forbes study shows that Metaverse has increased conversion rates straight by 40%. This improvement is primarily due to the introduction of 3D models that enables buyers to test or try their products virtually before buying. This builds trust among them and helps online brands earn more revenue.
Also, the need for setting up physical stores to let customers visit and test the products gets eliminated with the integration of Metaverse technology in e-commerce marketplaces. This reduces company costs and helps them maximize their profit margins.
Highly personalized experiences – Earlier, customers used to visit the stores to get personalized experiences. Store executives need to interact with them to understand their needs and feelings about buying any product.
But with time, when eCommerce marketplaces overtook the physical marketplaces, the users missed those tailored shopping experiences. But not anymore! Metaverse offers brands a golden opportunity to make conversations and virtually interact with buyers through their 3D marketplaces and virtual trial rooms.
Reduction in Product returns – In physical stores, the chances of product returns were almost zero because buyers can see, touch, feel, and even try the product. They make the final purchase only when they find the product satisfactory.
Since Metaverse offers a similar kind of immersive experience to in-store shopping, the chances of product return also reduce. Product returns in eCommerce platforms are mostly common for garments, shoes, jewelry, fashion accessories, furniture, home decor, etc. However, metaverse integration allows them to try their products digitally and know how they will look on them or in their actual space.
Makes the shopping interactive – Integration of metaverse in eCommerce makes the whole shopping journey more interactive, exciting, and satisfactory. For instance, Amazon's "View in your room" feature lets customers check how furniture or any home decor item would look in their own real space.
Cosmetic companies, fashion accessories, and apparel brands with the help of Metaverse help them virtually try the product and check how it looks on themselves. They will have the same feeling as visiting a physical store and so, in a way Metaverse uplifts the customer's experience.
Chapter 5- Metaverse E-Commerce and Customer Experience
Impact of Metaverse e-commerce on customer experience
Metaverse technology creates a virtual world that takes the customer experience to the next level by making real, riveting, and immersive product experiences. This parallel world offered by the Metaverse eCommerce platform will allow the users to feel like they have actually visited a physical store.
Virtual stores give them the same feeling as the in-store shopping experience in the comfort of their homes. They can choose a product or products, try them virtually, and see how it looks on them. This elevates their online experience and increases their chances of repurchases. Customers crave satisfaction after product purchase and Metaverse fulfills it without any doubt. They no longer need to go through the hassle of a product exchange or return due to size or color issues.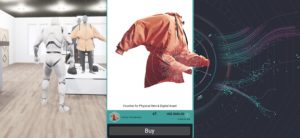 Another plus point of the eCommerce metaverse marketplace is that merchants can provide the same virtual shopping experience to customers across multiple countries through their platforms. They no longer have to set up brick-and-mortar stores in different cities and countries to expand globally.
Suppose, you have a preference for a particular brand available in your city but you are sad because you are shifting to a new city. Metaverse solves this problem. You can easily access the brand's virtual stores, go through their collection and pick your favorite like before. Logically, it is a two-way benefit because the customer is happy to get the same brand's product and the brand is happy to retain a loyal old customer.
Changes to customer engagement and interaction
If you are wondering what changes Metaverse eCommerce brings that traditional eCommerce does not, then this section is vital for you.
Apart from enhancing the customer experience, Metaverse personalizes the shopping experience of individual customers. Personalization is the secret recipe to success for every business. Hence, eCommerce Metaspace is a great opportunity to customize your shopper's journey on your website. It opens new doors or possibilities for product personalization with plenty of high-end tools and techniques.
Besides personalized shopping, Metaverse boosts customer engagement through exciting game contests, the creation of virtual avatars, and the trading of NFTs. Rewarding them with points, loyalty programs, special offers, birthday discounts, etc. pleases the customers and ensures they keep coming back to make more purchases.
Benefits of Metaverse e-commerce for customer experience
We have tried summarizing the key advantages of Metaverse eCommerce for customer experience in a few points.
Makes the shopping experience creative and at the same time realistic for online customers.
Metaverse takes personalization to a whole new level by redefining customer experiences based on their likes, taste, and preferences.
It serves as a new channel for reaching new audiences who were earlier unable to buy your product due to geographical limitations.
Even customer support in the Metaverse platform is quick, responsive, and personalized. This helps in building trust and increases customer retention.
Chapter 6 – Metaverse E-Commerce and Technology
Integration of blockchain and other technologies
It is impossible to talk about the metaverse without bringing Blockchain into the picture. The amalgamation of Metaverse and eCommerce is possible only due to the pioneering technology.
Blockchain Technology – Blockchain ensures full safety and privacy protection of the customers while interacting and making transactions on the Metaverse platforms. It serves as a reliable payment processor and platform by facilitating seamless transactions.
Web 3.0 and Metaverse are interconnected, and the creation of a synchronous, real-time, and decentralized virtual space was unachievable without blockchain. This leading-edge technology ensures all the events occurring in the metaverse world are logged into a secure series of records, combinedly called blocks.
The decentralized blocks are impossible to alter, hack, or tampered with. In short, Metaverse backed by secured blockchain solutions reduces cybercrime and misuse of power by a centralized governing authority.
Other than blockchain, other technologies that form the bedrock for Metaverse in eCommerce are Artificial Intelligence, extended reality (AR & VR), NFTs, IoT, and 3D reconstruction.
Artificial Intelligence – AI has inevitably transformed every facet of our daily lives. From smart voice assistants to self-driving cars, Artificial intelligence solutions are making our lives easier. Furthermore, before Metaverse came into the limelight, AI transformed eCommerce businesses with its impeccable power. So, it is quite expected that the contribution of AI in the metaverse would also be immense. It is used for creating intelligent 3D avatars because AI engines after analyzing 2D and 3D images of users help in designing more realistic avatars. It matches your complexion, hair and eye color, hairstyle & length, clothes, facial features, and so on.
Extended Reality (XR) – It is the combined term for AR and VR that takes the virtual experience to a whole new height. Without the integration of extended reality, Metaverse would have remained just a sci-fi thing. To make eCommerce shopping alluring and engaging, XR has a big role to play. It makes the virtual world a reality with the help of 3D visuals, surrounding sounds, etc.
NFTs – Non-fungible tokens (NFTs) are popular among leading eCommerce fashion, gaming, and sports brands because it gives the users the chance of showcasing the ownership of unique digital assets. For instance, Nike connected a real-life pair of sneakers with its digital version using NFTs. These versatile tokens are then used for selling digital collectibles, creating digital replicas, building customer loyalty through fan tokens, etc.
Internet of Things (IoT) – IoT in the metaverse is used for a multitude of purposes such as the collection of data, using IoT devices to connect the virtual environment with the real environment, and creating real-time stimulations.
3D reconstruction – Since Metaverse is all about experiencing a parallel world with the help of 3D visualization, this technology of 3D reconstruction is an integral component for every Metaverse world you create. 3D cameras, 3D models, buildings, objects, etc make your metaverse eCommerce realistic.
Security concerns and potential solutions
Since the metaverse is in its early stages, some potential threat scenarios need to be carefully addressed by security gatekeepers.
Here are a few breeds of threats that raise concerns for users while immersing themselves in the world of the metaverse.
Financial fraud – Cyber criminals and hackers are drawn to the metaverse and see it as an opportunity to steal money, data, and bank information. Especially, considering the volume of transactions that happen in the eCommerce sector.
Privacy Issues – Privacy protection is a prime concern in Metaverse because the owners of Metaspaces have full control and access over their user's private information, data, and other details. They can even monetize the user data and distribute it to harmful sources.
Darkverse – Just like the dark web, Metaverse gives way to the dark verse where it becomes difficult to identify the true behavior or mentality of the users you're interacting with. You may become exposed to the pseudo-physical presence of the users.
NFTs – Although NFTs are vital components in Metaverse eCommerce, come along with it lots of potential threats. For instance, NFTs control the ownership of digital assets but don't provide storage for the assets. Thus, it becomes easy for cyber criminals to block access or tamper with data.
Despite all these cybersecurity challenges, you need to relax and trust security gatekeepers. They are leaving no stone unturned to make metaverse a safe space for users to explore. They have discovered new ways to deal with these challenges. Out of all the potential solutions, the three most important practices to address the Metaverse cybersecurity challenges are –
The owners of the Metaspaces should collaborate on a set of strict codes of conduct and mandatory rules & guidelines to which users must agree to adhere. This also makes the users aware of the challenges and strengthens the leadership of Metaverse space owners.
Next, e-commerce platform owners should know the importance of security and customer privacy in the marketplace they are hosting. This helps them scrutinize the platform services better and ensure compliance with the privacy protection of the users.
As for customers, they need to make a special effort to comprehend that privacy safeguarding is their right and they are free to ask infinite number of questions to the platform owners that concern data collection, data storage, how to remove the data, etc.
Chapter 6 – Future technological advancements
Considering the fast-paced technological advancements that have made the whole Metaverse experience true to life, it is no surprise that the future brings more such exceptional possibilities.
From allowing retail owners to create customized stores to integrating virtual rooms into existing eCommerce platforms, Metaverse has all the potential.
In the future, it is expected to make more breakthrough innovations in eCommerce spaces. Some of the examples are listed below.
Leveraging Metaverse's app store to integrate and install 3rd party payment gateway for secure and quick transactions. Immersive and highly interactive mobile applications powered by the Metaverse would make online payments in a blink of an eye.
It will make it possible for eCommerce owners to control and manage their stores such as adding new features and setting up automated shipping and order fulfillment processes.
It is also forecasted that Metaverse with the help of IoT devices or gadgets will transmit data by acquiring them from the real world. This will help the Metaspace owners improve their platform performance.
Chapter 7 – Challenges and Opportunities
Challenges facing Metaverse e-commerce and e-commerce marketplaces
Every new advancement brings along with it some challenges as well and Metaverse is no different. In addition to privacy concerns and cybersecurity threats, there are three more challenges that Metaverse e-commerce faces.
Platform interoperability – There is a complete lack or absence of interoperability between multiple Metaverse platforms. For this reason, one cannot expect every platform to give him or her uniform virtual experiences.
Ease of Use – There is a big question mark regarding the usability or the convenience of the users on a Metaverse eCommerce platform. Mostly, it is for the tech-savvy and affluent demographics who have good knowledge of AR/VR, NFTs, and product interaction in the virtual world.
Value to Organizations – Merely implementing Metaverse in eCommerce business is not enough. It should generate real value and create new revenue streams. For this, eCommerce owners need to carefully evaluate all the possibilities before making a final decision.
Opportunities for growth and expansion
Metaverse, without a second thought, can  be considered an extraordinary new digital experience that beats our conventional eCommerce experience of browsing products and buying them. It is the successor to mobile internet that offers customers a more immersive and engaging shopping experience.
The areas where Metaverse is expected to grow and expand in the coming years are –
Virtual Real estate – Real estate companies will set up virtual storefronts where home buyers can visit and get a real-life experience of the property.
Virtual Events – Organizations can host virtual events regarding product launches, trade shows, webinars, etc. without requiring to spend hefty amounts of money on the physical venue and event arrangements.
Virtual Ads – With Metaverse, it will become easy to target and engage with the audience through visually interactive and 3D advertisements.
Virtual Payments – Integration of virtual payments into the eCommerce metaverse makes the online payment experience seamless, secure, and stress-free for customers.
Future outlook for Metaverse e-commerce and e-commerce marketplaces
To put in simple words, the Metaverse is primarily an immersive feeling or user experience that is facilitated by cutting-edge technologies such as AR, VR, Blockchain, AI, NFT, and haptic sensors to detect the users' reactions and body movements.
It is estimated that the Metaverse marketplace would jump to a whopping $758.6 billion by 2026 as more and more eCommerce companies and other businesses are adopting Metaverse to unveil new possibilities.
Moreover, over the next few years, the tech giants like Microsoft and Facebook have determined plans to leverage the metaverse and transform their corporations, by investing millions of dollars in this cutting-edge technology.
Chapter 8- Conclusion
Summary of key takeaways
After all the detailed discussion and insights into Metaverse eCommerce, it can be concluded that Metaverse is poised to emerge as the universe of the future.
With its tremendous economic potential and transformative capabilities, it is going to impact varied industry verticals, besides eCommerce. Real estate, Fintech, Automotive, education, and healthcare are to name a few.
The Metaverse offers users a highly advanced and immersive version of the internet. In other words, it represents a new-age modernized internet that has so much to offer and that has the potential to revolutionize businesses.
Final thoughts on the future of Metaverse e-commerce and e-commerce marketplaces
Metaverse is the next great leap in e-commerce and it is impossible for online retailers to stay away from its influence. Although its full extent and potential in eCommerce is yet to uncover, it surely has the ability to impact the business positively.
It enhances the customer experience, enables engaging interactions, and leverages immersive models to streamline business processes.
As a result of this, many companies are planning to integrate Metaverse technology into their eCommerce platform and improve overall efficiency. Are you one of them? Then connect with our seasoned web developers today and share your Metaverse ideas.
 That's all for now! Thanks for reading. Stay tuned for more informative articles on Metaverse, AI, chatbots, blockchain, and more.

Views: 665