Video games have been here for more than two decades. And video games are considered one of the best sources of entertainment for both children and adults. With time, the gaming industry has evolved and become more advanced, such as migrating from television to PCs and mobile versions.
As technology improves, so do video games. Compared to their earlier game versions, the new versions are more modern, more original, and more engaging.
The video game industry has been thriving in recent years, and as per a Forbes report, it is expected to grow to $300 billion by 2025. Thus, with billions of dollars in profits, the video game industry will continue to create more and more gaming platforms in the years to come.
If you have any game idea that you want to bring into reality but don't know where to start, you have reached the right place. We can help you find the best game developer from a top software development company in India to build a game for desktops and smartphones.
Why Outsourcing to India?
The first thing to focus on while seeking an outsourcing partner to develop your game is the country. Once you decide the exact country to choose your game developers from, the rest of the job becomes pretty easy.
Software developers are spread all over the globe and are proficient in developing software, websites, and applications of all niches. But why India? India is the ideal country to find your video game development company because India is home to a large pool of talented game developers. With more than 6 million software engineers, India's game development sector has gained a lot of momentum in the last few years. A few of the plus points of seeking services from an Indian company are quick and responsive communication, convenient time zone, and simplistic business infrastructure. Besides, the cost of development is much lower compared to other countries.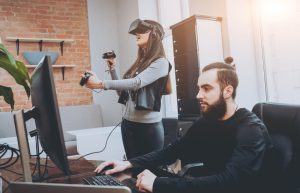 9 Tips for Hiring a Reliable Game Development Company in India
Below are some important points to keep in mind before selecting an agency for your game development. Here we have shared our insights on what factors to consider, for sure, before entering into the final agreement.
Company Experience
Years of experience in the gaming industry reflect a company's expertise and technical knowledge in the niche. Also, it establishes the client's trust in the agency. Thus, always go for the one with more than 5 or 6 years of experience and has already developed multiple games for global clients with 100% success.
Choosing an established service provider that has already worked on a large number of projects has many benefits. Firstly, the developers in that firm have acquired a lot of experience in the field and possess the right technical skill to match with your project requirements. Secondly, a firm's years of experience in the industry are useful in analyzing its reputation in the market.
Scope of Services
Another important thing to consider is the range of game development services the company offers. If you are planning to build games for mobile users as well as desktop people, then you have to check whether the vendor you are thinking of hiring provides game development for both systems. If not, then you have to reach out to a mobile app development company to develop gaming apps.
And for mobile phones, there are three platforms – Android, iOS, and Windows. So, you also have to see whether the company offers game development for all the platforms or operating systems.
Apart from platform selection, there are several other advanced technologies that have emerged in recent years and are used extensively by developers to build games. These are metaverse games, NFT games, and AR/VR games. Any established and successful agency will have the resources to build games leveraging these latest technologies.
Study their Portfolio
A company's portfolio showcases its best works, and hence when you scroll through the portfolio page of a business website, you will have an idea of their quality and type of work. When you shortlist companies for video game development, you must visit their portfolio section and see what game titles and categories they have done till now.
Are they capable of building the game you need? What are their expertise areas? Can they develop games in 3D? These are some questions whose answers you need to find before making a final decision.
Most companies have a dedicated section on their website for Project case studies, where project descriptions, the technology used, the timeline, and everything else is explained in detail for others to see. Going through the case studies thoroughly will help you understand what the developers are capable of doing and what their areas of competence are.
Checking the Client's Testimonials
Reading past customer reviews before buying a product is important to assess the quality of the product. In the same way, client testimonials are important before choosing a service provider for your game development. And a reliable and professional software development company in India will always display client testimonials on its website in order to maintain transparency.
Besides checking testimonials on their own website. you should also do proper research on the web about the service provider. Customer feedback, both positive and negative, is helpful in determining whether the service quality is going to meet up to your expectations or not. Social media also serves as a great platform to check for clients' reviews and their experiences working with a particular company.
Technology Stack Used
Technology is one of the most important factors in video game development. Developers leveraging the latest tools and trending technologies to build gaming software and applications will always stay ahead of the competition.
The technology stack used by your selected service provider determines the technical expertise and knowledge of their game developers. There are several parts to a game development process – crafting the game design, creating objects, coding, deciding game structure or game levels, integrating elements, and finally, deployment. All these require an adequate amount of technical skills from a developer's end.
Also, to ensure that the design of your game is quite appealing and grabs the attention of people in the first place, you need the service of an experienced graphic design company. Instead of investing in another vendor, it is always better to look for one that offers both design and development services.
Turnaround Time
Just as building a best-in-class game is important, so is on-time delivery. The software development firm must value the client's time and complete the project within the time as promised. A highly reputable vendor never compromises on quality while focusing on deadlines. For them, both are equally important.
Thus, while shortlisting companies for your game development, you must choose the one that provides top-notch quality services and that too within pre-specified time. Past client feedback on Google and various review sites like Clutch, and Good firms are the best places to check the turnaround times of various service providers.
Cost of development
Project cost is a paramount factor in determining the budget for your game development. Some agencies will charge extremely high rates, while others will propose to make your game at a very cheap price. A high price always does not imply best-in-quality software or applications.
So, always go for the one that offers an affordable and reasonable quote based on your project requirements, scale, complexity, and features. Besides, you need to check whether the prices include testing services and post-development support.
Game Testing
There is no point in hiring a game development company that just delivers projects and does not look back anymore. To see whether your game is working properly and is free from bugs, you need to find a game tester. Testing is important to ensure high performance, security, and usability of the app or software. To ensure a great user-experience, your game should undergo quality testing before the public release.
So what if you choose a company that develops the game and then tests it for you? Sounds better, right? Whether it is game development or any software development, a professional and trustworthy firm will always provide you with testing services after development.
Support and maintenance
Most software and mobile app development companies in India include post-development support and maintenance in their service packages. However, you need to be double sure before entering into a contract with one.
Support and maintenance by the same service provider ensures that issues or technical glitches in your game are looked after and solved by the same developers who have built your game. They will be able to detect and fix bugs and errors faster than other developers since they are involved in the project from scratch.
Wrapping Up
While the advantages of outsourcing are undebatable, the experience with your outsourcing agency mostly depends on your choice or selection.
Hence, in this article, we shared some simple and efficient ways of choosing the right technology partner for your game development project. Finalizing one amongst a large number of companies is really a tough call to make. Therefore, we curated a list of criteria that are must to consider while hunting for an agency. Hope, these above nine tips will help you find an experienced game development partner whom you can trust in the long run.

Views: 415