With over 90% market share, Google is the uncontested leader in the search engine space. Nearly 6 billion people seek information or search for products and services on Google daily. Whether you are looking for a local cafe, mobile repair store, or furniture store – Google is the ultimate place to search.
In this technology-driven world, without a Google My Business (GMB) profile, you're missing out on great sales opportunities. In fact, it is one of the most underrated products of Google. With GMB, you can make your business more visible to those looking for your products or services near their vicinity.
A GMB account increases your chances of generating traffic from organic searches and boosting conversions. Don't have an account yet? It's time to set up your GMB profile and explore its benefits. With the help of your Local SEO company, you can create your business profile now!
What is Google My Business (GMB)?
Google My Business or Google Business profile is created by businesses to connect with local customers. It is a free tool by Google to help local store owners and service providers gain visibility on local search results. Optimizing your GMB profile through page listing and updating contact information and service details will help you stand out from the rivalries in your area.
It is the nature of the users to search for a product or business on Google to know its position in the market. Therefore, in such a situation, if they can find you on Global maps and local listings, their trust in you increases. This is why you should utilize this GMB feature to its greatest extent.
GMB is a free tool or service by Google that offers an invaluable opportunity to local entrepreneurs to promote their businesses online. You can manage your GMB account and how it appears on Google to the searchers just like the example shown below.
Why Is It Important For Businesses to Have a GMB Listing?
Today, most people learn about local businesses online. You would be surprised to know that 91% of users rely on Google search to extract information about various businesses. Of all the queries raised on Google, 46% are of local intent.
As per Statista Report, 16% of website visitors come through direct searches, and 84% of them come after finding them on local listings while seeking information on nearby businesses.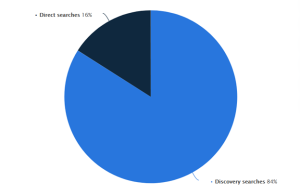 People find it comfortable to search "Books Store Near me" or "Best restaurants close by" because it gives them direct access to Google maps and contact information. For this reason, local searches have risen by 900%, and users love this search feature more than anything else. Hence, it would be a big mistake not to use this marketing tool to target people near your business.
Besides, most customers have accepted that they went to a local retailer or made a call after discovering its address and contact information from GMB profiles. Thus, you must set up your Google Business profile as soon as possible. Otherwise, you might lose many of your sales to your local competitors.
How To Set Up Your GMB account?
Creating your GMB listing is free and extremely easy. The step-by-step instructions to create an account are as follows:
You need to go to the site: google.com/business and click on start now.
Add the name of your business ( if Google already provides you with a list, select your name)
Fill up the details of your business organization, like address and service delivery area.
Google provides you with an option to pin your exact location ( so that customers can find you on Google Maps)
If your service includes door-to-door delivery, Google lets you fill in your delivery details, such as delivery method and radius or miles it will cover.
The next thing you need to do is select your business category.
Then decide how you want your customers to reach you, i.e., via the website or phone number.
7 Unbelievable Benefits of Google My Business For Your Company
Using Google My Business brings more effective results than other online marketing strategies. It can improve your ROI by generating traffic from local searches. It is ideal for companies aiming to target people within your business area. Thus, verifying and updating your business information on your GMB profile can help.
So, here are 7 outstanding benefits of using GMB for businesses.
It is Free
One of the greatest benefits of GMB is that it is free! Creating a profile in GMB listing involves no cost. Reach people with a free business profile by personalizing your account with photos, posts, services, and more.
GMB is a smart advertising service by Google that is free and faster than paid search advertising. Although Google ads are an effective strategy to get noticed by searchers in less time, their effectiveness is limited to the time you run the ad. After the ads are turned off, the leads or traffic stops coming in,
But with GMB, you can always appear on the first page of Google free of cost. And it is also quick to implement, compared to a paid campaign. It is a free way to drive organic traffic in less time. Once your business profile is listed on Google, visitors to your website and phone calls will keep coming in.
Increases visibility of your business
GMB assures high visibility from Google search results. Why? GMB listings appear on the first page of Google between paid ads and the first organic search results. Hence, before anyone's eyes go somewhere, they will first see your listing.
And when someone directly searches your business name, all the details with photos and reviews appear on the top right of the page. Not only that, but due to GMB, customers will be able to locate your business quickly. This is because creating a GMB profile also makes you visible on Google maps. It shows your full address with phone number/numbers and one can also get directions from Google maps to reach there.

Ensures Consistency
GMB helps you to keep your customers informed about your business all the time. You can keep them in the loop by updating your listing on Google my business profile, such as website address, phone number, location, and social media. This also helps your customers find you easily when you change your business location.
One of the many things customers hate is searching for your contact details on the internet or jumping through pages on your website to reach you. So, when they have easy access to all your contact information and address details, they are more likely to connect with you even when you change your location.
Get insights on customers engagement
Google My Business is packed with powerful features that provide the data you need to make informed decisions and create effective strategies. GMG not only does it promote your business but also give you valuable market insights. With GMB's detailed statistics and insights, you can always stay ahead in the market.
The features that it offers are:
Views – GMB helps you to track the total number of views on your business profile, photos and posts.
Search queries – You can also learn how customers find you or what keywords they use.
Engagement – GMB also shows how users interact and engage with your posts, what they share, and the comments they post.
Audience – GMB helps you to understand your audience demographics, such as age, gender, or countries from where they search for you.
Clicks on website URL – Another added advantage is that GMB helps track the total number of clicks on your website link.
Google Business Posts
Your GMB profile also allows you to post content that, in a way, complements your digital marketing efforts. It provides you with a variety of content to share, such as information about a particular product or service, offers and promotions, recent news and updates, and so on.
While sharing content on your GMB profile, you can choose which call-to-action to keep, from varied choices such as buy now, learn more, click now, sign up, call now, contact now etc. Automatically, this would boost your click-through rate.
Allows customers to leave reviews
The potential of customer reviews to drive sales can never be underestimated. Have you noticed customer reviews and ratings on various GMB listings? Most people check reviews and ratings before using any product or service. Hence, when your potential customers have easy access to earlier customer reviews, it nurtures their faith in your brand.
Likewise, it offers a great chance for your old customers to leave reviews and images and rate your business out of 5. Thus, it is extremely helpful for the users to know other customers' experiences with your product or service.
You can also respond to those reviews, which in turn helps build the trust of old customers and earn new customers. You can even create a short URL to share with your customers so they can directly leave reviews through the link.
Increases your sales
No wonder GMB will give a boost to your sales. Since your business appears in local searches along with reviews, customers get to know your products and services better.
Traditional word-of-the-mouth recommendations have replaced online reviews. When interested buyers see most of your earlier buyers appreciate your products by leaving positive reviews on GMB, it will convince them to trust and buy from you.
Thus, reviews and ratings on your GMB profile play a big part in generating more leads, driving sales and fueling business revenue.
Final Words
Without a Google My Business profile, you are losing out on a massive chunk of targeted organic traffic in this highly competitive market.
Once you know what benefits you're missing out on without a GMB profile, hire the best digital marketing company in Kolkata to maximize your profile outcomes. Even if you create a listing account on your own, you need someone by your side who knows how to optimize it and utilize it to grow your business's visibility on both Google local searches and Google Maps.
And this is where the SEO experts of our company come in. With their foolproof GMB strategies, you can easily drive traffic, increase engagement and generate sales.
Views: 421