Today, over 5 million people, i.e. more than half of the global population have access to the Internet and are using it for work, business, education, and entertainment.
To that effect, the majority of advertising and product promotions have shifted online, and enterprises worldwide are hiring digital marketing services to help establish and strengthen their online presence.
In this piece, we are taking a detailed look into how digital marketing is making major breakthroughs in the way brands take their products and services to their customers.
What is Digital Marketing?
Digital marketing, also known as online marketing or internet marketing, is the process of using online channels to advertise a product or service. The channels of promotion include websites, social media, emails, targeted ads, pay-per-click campaigns, and so on.
In business, digital marketing allows you to narrow down your target audience and focus on reaching them. It also gives you fresh insights into what other sections of the market you can attract.
You can use this information to promote your product to the relevant people and analyze your overall performance in the market over a period of time. Digital marketing also helps you spot areas where you can improve or ones that need change.
How Digital Marketing Is Transforming the Field of Business
Let's go back a decade and a half when printed, radio-aired, and televised ads were the only ways for companies to showcase their products. A TV ad could reach a set of persons who happened to tune into a certain channel at a particular time. The scope was even more limited for printed media.
On the other hand, a targeted email is sure to reach the exact person or group interested in a product and likely to buy it. Digital modes of advertising are not subject to regional or national boundaries and have a high percentage of being viewed by the recipient.
Every business owner and digital marketing company is capitalizing on the countless possibilities the Internet has to offer. We have discussed some of the major benefits of marketing products and services online.
Improve Search Performance
Search Engine Optimization (SEO) is a key element of any digital marketing campaign. It is the technique of fine-tuning a website's content and off-page elements to boost a website's rankings on the result pages of search engines.
In simple terms, SEO aims to make your site more visible online and accessible to more users searching for products or services of your niche. Today, SEO services are being sought after by businesses of all sizes and from all segments of the market.
By following SEO techniques, you can optimize your content for ranking algorithms like Google crawlers, and convince them that your site will provide value to the users. This helps you rank within the first few results for related searches, and drive in organic traffic.
In the case of mobile apps, similar techniques called app store optimization (ASO) are used to make an application rank among the top results in response to searches in app markets.
SEO gives you a clear picture of user interactions and of what people are searching based on demographic factors. It helps you point out your target audience, that is, the people who use and are likely to use your product.
By knowing the exact terms people are searching for, you can analyze and incorporate the most suitable keywords required to make your content rank higher. You can also modify your content based on customer preferences and build confidence and trust in your brand.
You can also use services like Google Ads and Google My Business to enhance your pages for local and regional searches. Whenever a user searches for your business, a section displaying your location, images, contact info, ratings, and working hours will appear along with your website.
Targeted Advertising – Both Inbound and Outbound
Advertising digitally also enables you to guarantee successful inbound marketing (customers come to the business website, app, social media, etc.) and outbound marketing (the business reaches out to the customer through email, social media, and actual events).
PPC (pay-per-click) campaigns are a common type of inbound search engine marketing(SEM) where the advertiser pays the search platform (like Google, Bing, YouTube, or Facebook) for every click a user makes on a sponsored link or ad.
With PPCs, you can draw in users who are interested in your product. You have to pay only when they interact with your ad, i.e. click it.
In Google searches, you have surely noticed that some of the top search results have a marker that says "Sponsored" or "Ad". These are examples of PPCs.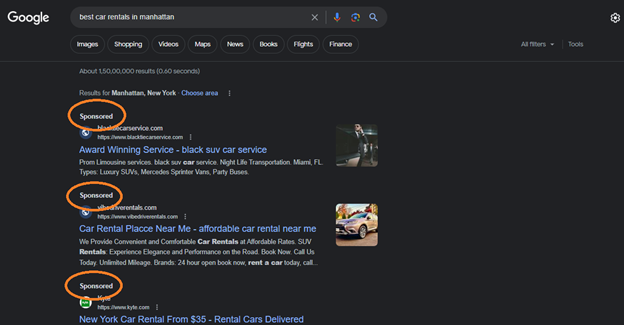 As sponsored pages appear above the organic results, they produce quick results and help you evaluate the success of your marketing campaign over a short span of time.
Email marketing is an example of outbound-to-inbound targeted promotions. Brands send out personalized emails to existing and potential customers showcasing their products, launching new ones, offering special discounts, making announcements, and the like.
As these emails are sent to relevant users only, they have a high chance of being opened and read. It helps companies to communicate better with their customers and gather their feedback.
Targeted emails generally contain links to the brand's site and strong CTAs (calls to action). This helps in increasing inbound traffic and converting them into sales.
In this targeted email, we see KFC reaching out to a customer who has not placed an order in a while. It features CTAs for placing orders and installing the KFC mobile app. There are also links to the brand's social media platforms.
Constant Evaluation of Results
It is now possible for businesses to monitor their marketing campaigns and carry out frequent performance tests. Digital marketing agencies are being entrusted with assessing the efficacy of brands' online advertising processes based on different KPIs (Key Performance Indicators) and making necessary modifications.
Several tools like Google Analytics, Search Console, and Page Speed Loader can help in this task by analyzing your performance based on metrics like time to display a site's title, page speeds, rendering speed, requests per second, bounce rate, and so on.
The launch of Google Analytics 4 in October 2020 changed the face of performance testing and set new trends in digital marketing. GA 4 lets you survey on-site traffic and user interactions at the same time and provides you with event-based data in the form of charts, graphs, and comparative statistics that are easy to interpret.
Using Google Analytics 4 opens up a host of opportunities for assessing your marketing performance, the primary ones being:
Tracking the buyer's journey – You can monitor all the steps from when buyers view a product, add it to their cart or wishlist, and finally make the purchase. This plays a key role in improving the user experience (UX).
Personalized Reports – You can select which part of a report or survey you want to work on based on the current situation and needs.
Free Access to BigQuery – Before GA 4, you had to upgrade to Google Analytics 360 to get raw data. Now with GA 4, you don't have to pay to access BigQuery and work with entry-level data.
Multi-platform compatibility – Previously, GA 360 was only usable for websites and you had to use Firebase separately to analyze your mobile app's performance. Now, GA 4 is the sole platform where you can do.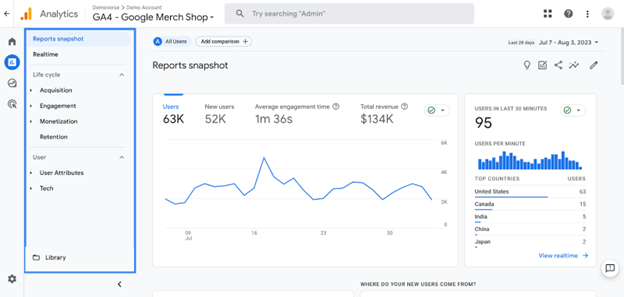 [ Also read: 7 Major SEO Mistakes And Ways To Fix Them]
Cost-efficiency and Better ROI (Return On Investment)
Perhaps the greatest upside of digital marketing is its affordability. You can monitor user preferences and behavior and make necessary additions and changes to your strategy at a fraction of the cost of traditional advertising methods.
You have the choice of where you want to invest your time and resources. For instance, you can choose to spend on high-end CRM software to build more trust with customers, or you can opt for influencer marketing campaigns on social media to gain more traffic.
This is particularly helpful for small businesses with tight budgets to compete with big brands. The former can focus on social media marketing, SEO, blogging, etc. to ensure higher returns on investment without having to spend a fortune.
You can also reach out to a content marketing company to optimize your content and make it more search-engine friendly in order to boost your brand's online visibility. Recent studies suggest that effective email marketing can achieve an ROI of up to 36 times while SEO strategies can average an ROI of 2,200 %.
To put it plainly, the more users visit your online platforms, the higher your rate of conversions is going to be. It is all about generating leads and turning them into sales.
Leverage the Power of Social Media
With almost 5 billion people using social media today, the field of advertising is undergoing major shifts. Brands are utilizing the capabilities of platforms like Facebook, Twitter, Instagram, and LinkedIn to form deeper connections with customers and interested parties.
Social media posts are quicker and more effective than traditional ads in appealing to a wider base of users anywhere on the map. Moreover, user-generated content (UGC) like social media posts, ratings, reviews, and Q&A posts resonate better with other users than brands vouching for their products themselves.
UGC creates a seal of trust to the fact that users are satisfied with your product or service, and are suggesting others to try it as well. This builds social proof for your brand and promotes confidence in your brand in users who are looking to pay for your offerings.
Influencer marketing is another new trend that has gained immense popularity in recent times. Brands are teaming up with 'influencers', or persons who are considered experts in their respective fields and have massive social media following.
Based on your specific marketing aims, you can collaborate with them and produce engaging content, announce new products and offers, host interactive sessions, and a lot more.
Below, we can see an example of third-party influencer marketing where food and recipes platform Buzzfeed Tasty has collaborated with food vlogger @ingatylam to promote a drink from the fast-food chain, Dunkin' Donuts.
The most significant advantages of incorporating social media marketing include:
Creating brand awareness
Generating more leads
Nurturing leads and converting them into sales
Improving the customer experience
Analyzing the marketing performance, and
Building partnerships with other businesses.
[ Also read: 12 Latest Trends in Web Development to Stay Ahead ]
Enhanced User Experience (UX)
Let's face it. Very few of us are likely to go back to or make a purchase from an app or a site that takes minutes to load.
You can have the most brilliant services or top-notch products that outmatch those of your competitors. If you ignore how smooth your site is to navigate, users will get frustrated and move on to other available options.
With suitable digital marketing measures employed, you can make sure that users have an engaging experience while checking out your brand. Every leading web development company is investing a major share of its time and resources in conducting UX and UI research.
User research can help your business in multiple ways. The most notable advantages are:
Build stronger bonds – You can develop empathy for your users by putting yourself in their place and finding out what they feel about a website, app, product, or service. This helps you make changes accordingly.
Identify pain points – Now that you are familiar with the user's level of satisfaction, you can spot areas where they are facing problems.
Let's assume that one of your client's websites is having a high bounce rate and they want you to improve their overall UX. Unless you carry out UX research, you won't be able to find out what is causing it, to address that particular area.
Design based on data – UX research helps you capitalize on user data and consider them as the driving factor throughout your design process.
Save time and money – UX research requires initial spending of time and labor before the design process. However, in the long run, it is extremely cost-effective and does not require you to spend huge amounts on research and design later on.
On the other hand, if you guess what your users might like, then design and again make modifications, the process becomes haphazard and consumes more time and resources.
The Final Verdict
It goes without saying that with smartphones in every pocket and PCs in literally every household, traditional means of advertising simply won't cut it. A foolproof and efficient digital marketing strategy is mandatory to take your business to the relevant customers and multiply your sales.
Not only is it affordable and highly productive, but most of your competitors are using it, and those that are not are looking to, soon.
If you want to revamp your advertising process and sales, Webgen Technologies has got to be your next stop. Being a leading digital marketing agency, we have been helping businesses tap into the digital world smoothly.
Views: 501