Social media, as we all know, has dramatically transformed our everyday lives. In the last few years, especially after the pandemic, it has become the most integral part of daily activity. From reaching out to people for help to searching for jobs, and educating yourself to marketing products, social media has done it all for us!
In simple words, social media has gained tremendous popularity as its impact gradually shifted from being just a social connection platform to a fully integrated marketing channel. Platforms like Facebook, Instagram, LinkedIn, and YouTube are considered mainstream for product and service marketing for every business and the reasons are manifold.
Here, in this article, we have tried unfolding those reasons with logic, statistics, and some impactful case studies of renowned brands.
---
---
Definition of Social Media Marketing
Social media marketing is the digital marketing technique of promoting products or services on various social medial platforms such as Facebook, Instagram, Twitter, LinkedIn, Pinterest, YouTube, and so on. It starts with creating your brand's social media profiles and then posting engaging content that your target audience can relate to. Regularly posting relevant and interesting content will help you, as a brand, get noticed fast and gain the attention of your target market.
If you succeed in attracting all the potential customers to your social media pages and turning them into followers, then hopefully you have earned some quality leads for your business. This way social media marketing can help you build a community with a loyal following. The more you interact with your audiences through your content on social media, the more likely they are going to buy from you.
Importance of Social Media Marketing For Businesses
In today's digital era, a social media presence is as important as having a website. People have become smarter. Besides going through your company website, they look for social proof on all the channels before investing their money in your products or services. So, you need to make social media marketing a priority along with your other marketing strategies.
In particular, social media is ever-evolving and new trends, updates, and features emerge every other day. So, it becomes important for modern businesses to stay up to date with the latest trends. It helps in expanding your reach online and maintaining a competitive edge over others. Studies have shown that companies with no or inactive social media accounts are missing out on a great number of sales online.
Social media marketing has undeniably resulted in the incredible growth of businesses digitally. It makes people aware of your existence in the market and with a solid foolproof strategy, you can generate new revenue streams and earn 3X revenue.
Here is platform-wise data for the total number of active users according to Statista's reports.
Facebook: 1.9 million users daily active evenly spread between Millennials and Gen X.
Instagram: 1 billion users active monthly who are mostly Millennials.
Tiktok: 1 billion active users monthly with the majority of them being Gen Z and the rest being Millenials.
LinkedIn:  774 million active users all over the world comprising millennials, Gen X, and Baby boomers.
Twitter: 211 million active users daily who are primarily Millennials.
YouTube: 315 million active users daily comprising millennials and as well as people in the age group 30-45 years.
Snapchat: 306 million active users daily across the world comprising mostly Gen Z.
Pinterest: 444 million active users monthly with audiences evenly distributed among Gen X, Gen Z, Baby Boomers, and Millennials.
These phenomenal figures are clear proof that if you haven't integrated social media marketing into your business promotional strategy, then you're surely at a disadvantage. But it is better late than never! So, connect with a top-ranking and reputed social media marketing company to get started with social media promotions right away.
Chapter 2 – Brand Awareness
Importance of Brand Awareness
Brand awareness is the first step to both offline and online marketing. It is the process of making the public aware or knowledgeable about your brand and your product or services. Unless they become familiar with the brand name, it is difficult to convince them to buy your product or use your services. Hence, in today's fast-paced competitive world, brand awareness is imperative to boost online growth and trigger sales.
It has been observed that businesses or large corporations that maintain a high level of brand awareness, especially on social media, always stay ahead of the competition. They are the ones who are most likely to take away the maximum revenue because of the simple reason – Customers know them well.
If people do not know you exist, then how can they find you and make a purchase? Winning the audience's trust is easy for familiar brands compared to unknown names. So, before you start with social media marketing, you need to focus on brand awareness first so that you are easily recognizable by social media users.
How Social Media Marketing Can Help Build Brand Awareness
Social media has become the place for brand discovery for people. Earlier, the audience came to know about a brand or its new product through TV, radio, billboards, and newspapers. But time has changed and businesses tapping into the digital world resort to social media to make their audience aware of their brands, products, and services.
Consumers, on the other hand, have also admitted that they come to know about new brands on social media. In the new age of streaming, audiences no longer have the patience to watch TV ads to learn about brands and their activities. Moreover, the content is forcefully fed to them during movies, soaps, and other content. But in social media, branding or product advertising is done in a very natural and interactive way. The content is tailored to the tastes of the target demographic.
With social media marketing, you can create and post content that your potential customers will consume. Most importantly, you don't need to invest dollars in advertising campaigns because social media platforms give you ample scope to advertise your products and services organically. So, if you are thinking about whether social media marketing is worthy of investment, then sure it is.
An Amazing Example of Successful Social Media Campaigns for Brand Awareness
The top multinational beverage manufacturer Coca-Cola is known for its innovative and eye-grabbing ad campaigns both offline and online, particularly on social media. It is one of the first international brands to perform so well digitally. One such example is its Facebook app – "when will happiness strike" which was a great hit. The objective of the campaign is to unite people with the help of the Coca-Cola brand by encouraging them to share their moments of happiness with others through storytelling.
Its Indian subsidiary is also not staying behind when it comes to creative and ingenious brand awareness campaign ideas. Recently, they made a refreshing move with "Bluetooth-enabled Diwali Invitations". The world's largest soft-drink brand rolled out locked coke bottles which was a limited edition. The bottle cap was Bluetooth-connected which can be unlocked only by the sender's phone. This means when someone receives the coke bottle as a gift, it could be enjoyed only when the receiver meets the sender in person.
This exhilarating ad campaign was run on YouTube, Facebook, Instagram, LinkedIn, and other channels during the entire festive season to cultivate the feeling of togetherness. People were inspired to meet, greet, and make social connections over a bottle of refreshing drink. This awesome move by Coca-cola also resulted in an increase in brand awareness because it not only involved a large number of people but also made them use their product.
Chapter 3 – Customer Engagement
Importance of Customer Engagement
Customer engagement is considered a ranking signal in a website and social media platforms. When people engage and interact with your content, the algorithms assume the content to be purposeful. It surfaces the content more so that it gets easily discovered by the users.
Customer engagement boots your web pages and social media accounts so that it reaches more and more people. Another reason customer engagement is important in every business is it helps in building customer loyalty and establishes meaningful relationships with them.
How Social Media Marketing Can Help Increase Customer Engagement
Traditional marketing methods were one-way media with no scope for viewers to engage with the brand. However, social media empowers customer engagement on a great level. Two in five consumers have reported that engage with the brand they use through quick actions such as following their pages, liking their posts, etc. They believe a simple post "like' can go a long way in nurturing brand love and loyalty.
In addition to this, customers use social media as a medium to give product reviews, raise queries, and report complaints or issues. Brand marketers see social media marketing as an opportunity to positively influence customers' buying decisions.
Outstanding Examples of Customer Engagement on Social Media
Wendy's – You already know Wendy's has been utilizing the power of social media with their fantastic Facebook posts, powerful and cryptic tweets, and youth-focused Instagram posts. They not only interact with their followers but also indulge in the retweet and comment game with their close competitors to infuse fun in their brand promotion.
Most importantly, users find their content so relatable and funny at the same time that they instantly react through likes and comments.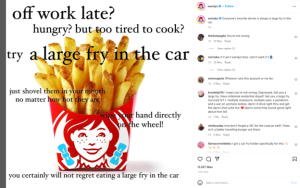 Airbnb – When the US government imposed a travel ban in 2017, Airbnb started a campaign with the hashtag #WeAccept to promote inclusivity and acceptance. The campaign received huge responses and widespread support from people worldwide. Another campaign was run by them with the hashtag #LiveThere with the purpose of encouraging travelers to immerse themselves in social culture during their stay in Airbnb properties.

Chapter 4 – Targeted Advertising
Importance of Targeted Advertising
Targeted advertising is the practice of sending promotional content to different sections of the audience based on their interests. Through this marketing technique, the brand tries to send a message to its customers that they understand its customers best and would try to meet their expectations with its products and services.
Targeted marketing is often personalized because the ads are intended to influence the decisions of the users through user-specific content. Customers feel connected with the brand and it also increases customer retention rate.
How Social Media Marketing Can Help With Targeted Advertising
Targeted advertising in social media allows brands to be more specific about selecting customers to whom they want to show their ads. This is an excellent way to reach users all over the globe and show them ads based on their interests and purchasing behaviors.
It has been a proven fact that consumers are more inclined to buy from you when you personally communicate with them through targeted ads. Businesses collect data about social media users, identify their customer segments, and analyze their purchasing choices to run targeted ad campaigns.
Examples of Successful Social Media Campaigns for Targeted Advertising
No one can beat Starbucks when it comes to targeted advertising. Their strategies fully focus on customer experience and they encourage digital interactions with customers. This celebrated brand, in particular, promotes fan-favorite special beverages.
#RedCupContest – It ran a contest on social media encouraging beverage lovers to show their creativity by posting Starbucks red holiday cups with the hashtag #RedCupContest.
#StarbucksDate – Starbucks made sure to target lovebirds on valentine's season through their creative #StarbucksDate campaign. This targeted ad garnered a huge response from the audience and drove massive sales during the entire valentine's week.

Chapter 5 – Lead Generation
Importance of Lead Generation
In marketing, the term lead generation refers to the process of initiating customer interest in the brand and turning them into paying customers. The sole purpose of online advertising is to push qualified leads down the sales funnel with the goal of turning them into sales.
Attracting prospective customers to your brand is the core of the sales funnel and businesses collect new leads every day from their website, email,  social media, and other online marketing sources. After lead collection, they focus on nurturing potential customers through further follow-ups and targeted marketing. This helps them in screening the most qualified leads who are then reached directly by the salespersons.
How Social Media Marketing Can Help With Lead Generation
Social media marketing has turned out to be the most effective lead generation tool, only if you know how to utilize it the right way. With more than 3.6 billion active users daily on various platforms, there is no other perfect medium other than social media for brands to reach their target audience and attract quality leads.
Here are some interesting ideas to generate valuable leads with the help of social media marketing.
Lead Magnet Offers – The best way to cultivate interest in the audience and compel them to share information with you. By giving them lucrative discounts, special offers, free webinars, or whitepapers, you can draw their interest in your brand.
Sharing testimonials – Sharing your existing customers' stories, positive reviews, and experiences on your social media profiles serves as social proof you need to attract potential customers.
Personalized Ads – Top brands are using personalized advertising to boost sales. By using highly specific targeted ads such as birthday discounts, limited-time deals, introductory offers, etc. they can keep their interest growing and convert them into loyal customers.
Sequential Retargeting – Retargeting ads amplify your social media marketing strategy and help you collect leads who have found you from your website or other referral sites.
Hosting virtual events – Organizing virtual conferences help brands target relevant audience all at once while establishing the brand's area expertise. It is an incredible lead generation method because you can easily collect information about those who join your virtual event.
Start implementing these effective lead-generation tactics in your social media advertising to experience a significant increase in ROI.
Examples of Successful Social Media Campaigns for Lead Generation
Most companies have been taking advantage of social media for generating leads and are quite successful. Here are some notable examples.
Skillshare, a learning community, uses social media to promote its specific courses by offering them a 14-day free trial service. It is an effective tool in generating quality leads because when anyone purchases a free trial and uses the services, the chances of their conversion later increases.
Search Engine Journal, also hosts SEJ eSummit on a regular basis where leading experts from all over the world join to provide knowledge on digital marketing and related topics. They tactfully announce limited-time registration offer such as "early bird registration" to ensure that high potential customers register first and join the virtual conference.
Chapter 6 – Reputation Management
Importance of Reputation Management
Brand Reputation Management is the practice of monitoring consumers' perceptions of the brand and seeking strategic solutions to improve the company's image in the market. Reputation management mostly focuses on protecting a brand's reputation on Google, social media, and other review sites.
Most importantly, through online reputation management, you can counter negative feedback and comments with logical explanations and clarifications. People have become smart. They don't just see a product and purchase it instantly. Going through past customer reviews, social media activities, real images, videos, blog posts, etc. has become a common activity for buyers before making a final decision.

How Social Media Marketing Can Help With Reputation Management
When done right, reputation management can take your business toward the right path. It promotes the proactive use of Facebook, Instagram, LinkedIn, and other social media channels to promote your brand and establish trust among consumers.
On the contrary, when online reputation management goes misguided, it can taint your brand image. Therefore, you need full-service online reputation management as a part of digital marketing services to ensure that your customers are able to perceive your brand in the best light.
Further, you can make the most of your social media presence to maintain a desirable brand reputation and increase your market value. By constantly monitoring the comments of the users, and giving them appropriate replies you can prevent them from having a negative experience with your brand.
Examples of Successful Social Media Campaigns for Reputation Management
Zappos, a top online garment and footwear retailer, is known for its disruptive social media strategies and its excellent customer service. Their message tones are perfect to sway the customers. Customers are very much pleased with the way Zappos responds to them. And on top of that, their response time is real fast as they reply almost within the first hour.
When it comes to online reputation, they are doing it just right. It is really impressive to see how beautifully they respond to their agitated customers with an apology and quick solution. Moreover, most of their replies are personalized which gives the customers a sense of connection with the brand.
Importance of Social Listening
Social listening is the process of analyzing relevant content on social media accounts with a motive to understand customers' likes and choices and accordingly improve product development.  Social listening is also seen as a great way to provide better customer service and make people feel heard.
Brand, through the practice of social listening, tries to identify and assess what is being said about a brand or a product on the internet, particularly on social media. This means brands need to follow customers' conversations and collect information from large volumes of unstructured data.
How Social Media Marketing Can Help With Social Listening
Social media gives ample opportunities to companies to collect valuable customer information from their conversations and improve the quality of products. Social listening assesses what type of experience they are having with your product or service. It can help enormously in tailoring their products and services in a way that addresses the customer's needs.
To get started with social listening, you first need to understand what topics your customers are passionate about, identify their pain points, and what messages they actually resonate with. Most of the time, brands guess and do not listen, resulting in poor marketing strategies and no personal connection with the audience.
However, with social listening, they collect relevant customer data and try to better understand their needs. Social listening helps brands find ways to address the users' requirements effectively and outshine their rivalries.
Examples of Successful Social Media Campaigns for Social Listening
Dove did an excellent job by utilizing the power of social media and encouraging women to open up through an interesting storytelling concept.
The #SpeakBeautiful campaign tried to make social media a positive place for women to speak up and generated more than a billion impressions in one day. Another campaign was run under the hashtag #MyBeautyMySay which challenged the traditional beauty norms and motivated women to celebrate their own beauty.
Chapter 8- Key Takeaway
Summary Of The Importance Of Social Media Marketing For Businesses
Businesses are emphasizing social media marketing because its impact on sales is huge. Besides generating quality leads, a strong social presence can help you retain old customers by winning their trust and building strong business-customer relationships.
One of the most crucial aspects of social media marketing is keeping an eye on the social media metrics on regular basis to ensure that your efforts are made on the right track.
The important metrics that you need to measure and monitor on a daily basis are total reach, total followers, total impressions, profile mentions, reposts, and post engagement (likes, comments, replies). You can also seek the help of a trustworthy social media marketing company to help you improve your metrics.
Future Of Social Media Marketing For Businesses
The importance of social media in business is growing and is expected to become the primary lead and sales generation tool in the coming years. With the emergence of new technological advancements such as AI-powered chatbots, AR, and mobile commerce, the social media landscape is evolving at a rapid pace.
New marketing trends and social media tools are surfacing that are anticipated to transform the way products and services are marketed on social media. The rise of influencer marketing is one such example. Brands, both big and small, are collaborating with influencers such as creators, bloggers, celebrities, etc. to promote their products. Another trend to talk about is employee advocacy where brands are tapping their workforce to promote their organizations and work culture on social media.
Therefore, business owners need to shift their focus and reshuffle their marketing strategies to engage with the audience effectively and boost their sales.
Views: 359